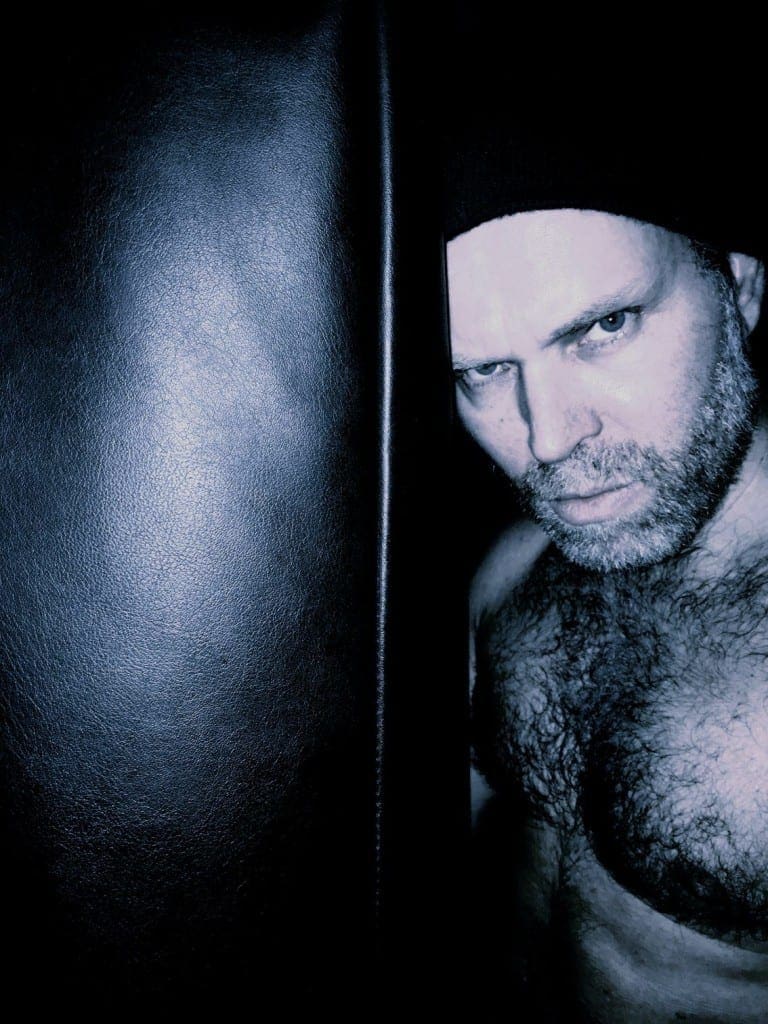 The Swedish (but Brussels based) act ELM has in record time conquered the clubs with his fresh EBM which manages to keep a very good balance between oldschool EBM and a high end production. More than time to talk with Peter Elm (see also the act Restricted Area), the man behind this Swedish project, and we have asked Peter more precisely to comment on his debut album "Hardline" and of course also his brand new EP "Kampftrinker" which which we will start.
The brand new 5-track EP "Kampftrinker" by ELM is out now and you can listen to it below or download it right here via Bandcamp:
Here are the track-by-track comments by Peter Elm.
1. Kampftrinker (Slacht!-Mix)
"I really wanted to make this remix sound raw, dry and in your face, I hate to use the word "old school", but in the true sense of the word! I had a particular type of sound in mind. Almost all contemporary EBM bands are NOT old school and they are all well aware of it. Media likes to throw this term around a lot but it's incorrect. This track is very hardware based."
2. Kampftrinker (Steiner Parker-Mix)
"The song is based around a bass line from a synthesizer with a Steiner Parker filter, thus the title of the remix. I changed the arrangement of the song completely and made it more laid-back and melodic."
3. Kampftrinker (Hard Club-Mix)
"This version is the closest to the original that appears on Hardline, but even more stripped down and aggressive."
4. Fighter (Raw)
"This is an analogue, rawer version of the song that also appears on HARDLINE. Classic EBM."
5. Blackout
"This is a brand-new track, While "Kampftrinker" is about life vs alcohol, reality vs escape and "Fighter" is about facing adversity head on, "Blackout", well it's about shutting your brain off and taking a "time-out"."
And since the EP is linked to ELM's rather impressive album "Hardline", we also asked Peter if he could shed some light on these tracks as well. You can listen to the album below whilst reading of course. You can download the album here via Bandcamp or right here on 2CD/CD.
1. Black Sky
"Written long ago, around 2011 – 2012, when I was living in Berlin… This song is very personal to me. It's a minimal track with an analogue bass line. The music box melody in the beginning is sampled from a music box I found in my parents basement. I think the track has a desperate and apocalyptic feel to it, a feeling that is reinforced by Ysa's fantastic chorus. I also feel that the song as such stands apart from the others, very far from EBM… I also think it goes very well with the cover and artwork of the album."
2. Wapenrustning
"A pretty straightforward EBM track. Not much to say here, I think the lyrics speak for themselves. Genuinely pissed off at everyone and everything when this came to be. Mainly real analogue hardware equipment used here. The track has a bit of a "demo-ish" style production which I like."
3. Kampftrinker
"I just love the sound of the name! I'm actually surprised no one has come up with this name before, especially in the EBM scene! This track also goes back to when I was living in Berlin, I wanted to write at least one track in German. A poem about life and drinking, running and reality. This track was chosen as the second single from Hardline."
4. Brofar
""Brofar" is the name of a rat poison. This is a poem in french inspired by signs in public toilets "Les gestes de chacun font la santé de tous", meaning: "Each person's gesture contributes to everyone's health". I twisted and turned it around a bit. The song actually is about how each persons actions contributes to the the end of this world. Or where we're at now (the song was written in 2014)."
6. Envahisseur
"Analogue EBM in French. I like to use the French language in a minimal way, much like DAF, and not in the "traditional", more "flowery" way. "Envahisseur" means conqueror."
7. Edge
"I created a bass line with a great hook. The challenge was to keep the same sequence throughout the whole song and still make it interesting. Also not to add too much. The lyrics speak for themselves. Every word is my honest opinion."
8. Oblivion
"This is a more groovy or funky track. I wanted the shuffle effect and think it works well here. I don't like albums where all songs sound the same, I find it boring. I like variations in sound architecture and rhythm. This is a poem that's personal to me, free of interpretation…"
9. Hightime
"I get a lot of Front 242 vibes here, a band I grew up with. I like tracks that are not too fast… This one has a good, heavy feel to it I think. The lyrics speak for themselves. It's a pretty old track though and things have gotten worse since it was written. On a related note internet give haters and mediocre, unintelligent people a voice and a platform. It's a place where cowards live."
10. Fighter
"A very old track, originally made for Restricted Area. I always liked the bass line here, very traditional and stomping EBM. The lyrics are very old too and are a personal kind of motto about integrity and sticking to what you believe in, in a very fucked up world."
11. Pervert
"Ys Atlov on vocals. The lyrics would have been too banal and a lot less interesting with me singing. I had a lot of problems with this track and it took on many forms before finally becoming this version. I think it turned out pretty good in the end."
12. Paradise
"This is a pretty "clubby" track I guess. Minimal bass line. Same challenge as with "Edge" here, I wanted to keep the same bass line running through the entire song. It really is a challenge, especially with all the possibilities there are today. There is actually a line in the lyrics stolen from a movie here… "Every man must walk through hell to reach his paradise…" Robert De Niro stars in this movie…"
13. Hardline
"I think the title of the album came before the title of the song but I'm not sure. I really like the sound of it. "Hardline" for me symbolizes a sort of philosophy you have to have with yourself in a world without real values, where everyone changes their opinions for their own benefits, shallow political correctness, loss of integrity, etc. The song has a much more sexual core to it though and the lyrics are personal. Maybe some people will be able to read between the lines a little bit…"