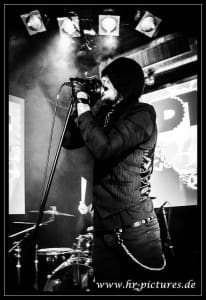 It's not too often that industrial bands release live albums, let alone full blown live videos. But Freakangel is one of those exceptions. Recorded during their extended "The Ones To Fall" tour last winter, they are to release the 11-track counting live download album "The Show Of Violence" via Bandcamp (pre-orders available) and several other download stores.
The live album acts as a closing chapter for the band's 3 first albums (plus multiple EP releases) before returning with a next full length studio album in 2016. Unlike many other industrial bands, what you get live from Freakangel is quite different from the studio versions. "The Show Of Violence" therefor gives you the opportunity to rediscover the band's discography in alternative live versions.
The concert was recorded at the Rockstar's Club in the band's very own city Tallinn – Estonia, and was also filmed using 5 different cameras. The video of the live concert will be spread for free on several internet platforms.
A live video teaser of this soon to be released free video concert can be seen below.
The HQ audio from this concert can be downloaded from Bandcamp. Tip: use the discount code freakangel5237 and you'll get 25% off on your basket – valid until the day before the official release on October 9, so be quick!
Freakangel is also planning some extra concerts in Europe:
Oct 16, 2015 / Helsinki, FI – Bäkkäri
Oct 30, 2015 / Moscow, RU – Rock House
Oct 31, 2015 / St. Petersburg, RU – Zal Ozhidaniya
Nov 12, 2015 / Paris, FR – Le Klub
Nov 13, 2015 / Zofingen, CH – Oxil
Nov 14, 2015 / Padua, IT – Grind House
Nov 15, 2015 / Milan, IT – Club Rock'n'Roll