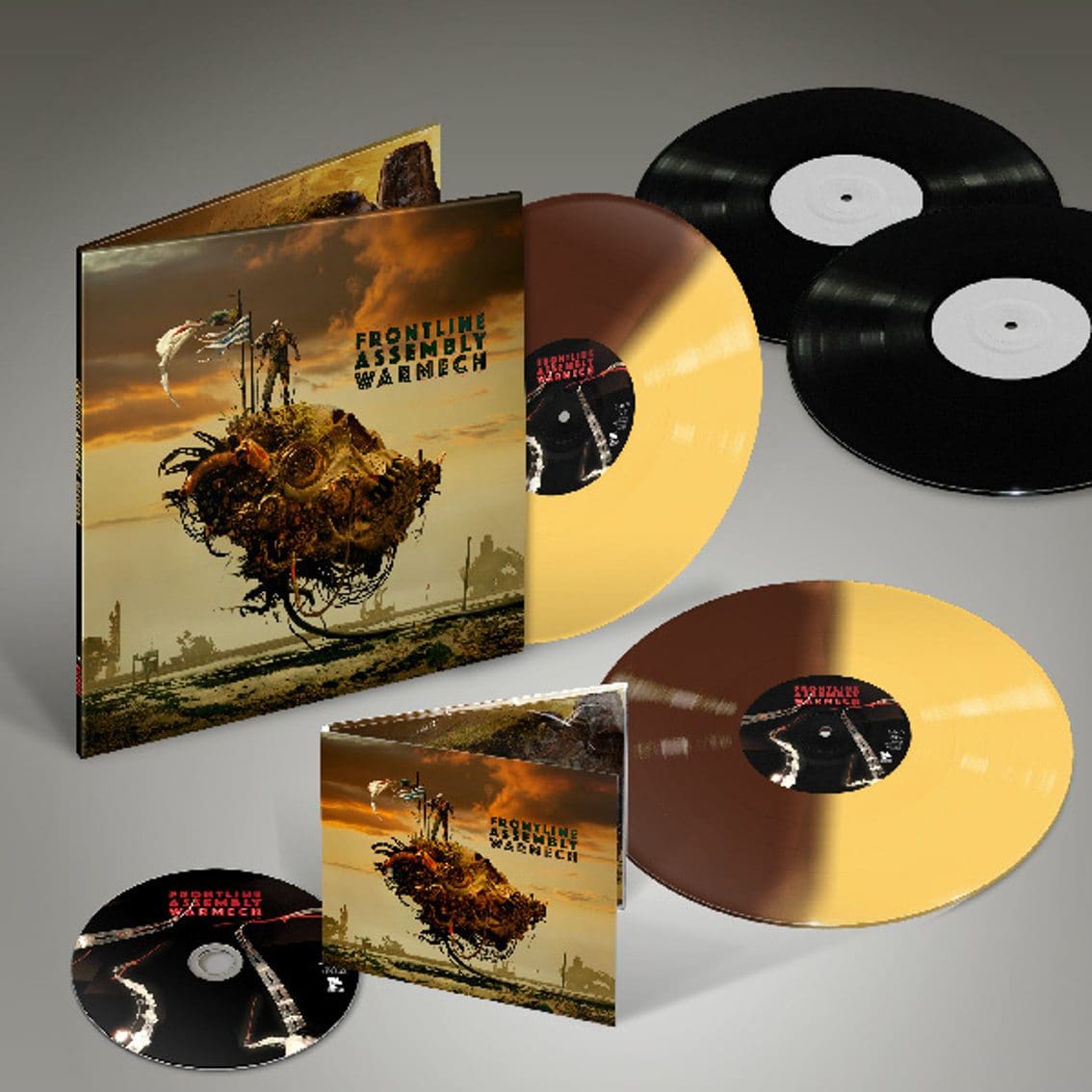 Out later this Summer on Artoffact Records (and already available for ordering via the label's mail-order in various vinyl versions) is Front Line Assembly's all-new soundtrack for Carbon Games' latest creation, "WarMech".
You can now already listen to first new Front Line Assembly track "Mechvirus" taken from the OST of Carbon Games' latest game.
For this release Bill Leeb is joined by Jared Slingerland, Sasha Keevil, Craig Johnsen, and the late-great Jeremy Inkel. In total you get 12 tracks ranging from industrial to ambient to techno.
5 versions available including a mega limited fan pack
The album will be released on double vinyl (next to a CD digipak version) including black and greasy-mess versions, as well as a strictly limited (100 copies) dystopian future half-half effect version (available here) with both brown and yellow. The vinyl comes in a gatefold sleeve designed exclusively by Dave McKean, and you also get a collectable, branded download card. You can discover the various versions right here.
A game code for exclusive ingame content for both AirMech Strike (free) and AirMech Wastelands (available for purchase seperately) is included. The dystopian future half-half effect vinyl also holds the AirMech Wastelands full game code and AirMech Command (VR) full game codes.
Note that a special exclusive fan pack is also available limited to only 11 (eleven!) copies worldwide – orders for this pack can be placed here. It includes the dystopian future half-half effect vinyl, CD digipak, and test pressings.
What is AirMech Strike?
For those unaware about the game itself. AirMech Strike is a free Player vs Player action-strategy game available on PC and Steam where you battle other AirMech pilots to dominate contested territory. Using your AirMech, a transforming mech which can fight on the ground or fly in the sky and carry your armies over the battle.
Build tanks, troops, artillery and more to hold your ground or push the fight forward. Each AirMech class has unique abilities, and teaming up with other AirMechs to enter battle lets you decide the type of commander you want to be. Intense combat action and complex strategic play is the path to victory!