Genre/Influences: Industrial-metal, industrial-rock
Background/Info: John Bechdel is an American keyboard-player, known for his work with the industrial-metal acts Ministry, Prong, Fear Factory, Killing Joke, Murder Inc, Ascension Of The Watchers and False Icons.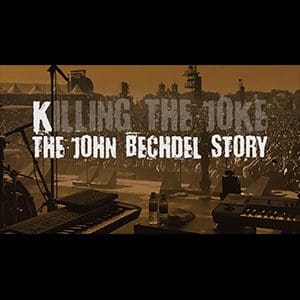 Content: A bit later than expected (but better late than never) we finally present this review. Director/producer Darryl Hell was so kind to send us 3 dvd's with not only the 2 hours documentary but also 4 hours (!) of extra interviews (including a 50 minutes talk with Al Jourgensen of Ministry), raw footage and pictures. "Killing The Joke: The John Bechdel story" features more exclusive interviews with Burton C. Bell (Fear Factory), Alison Bechdel (FUN HOME / award winning writer), Greta Brinkman (L7, Pigface, Debbie Harry, Moby), Charlie Clouser (Nine Inch Nails, Marilyn Manson), Martin Atkins (Public Image Limited, Killing Joke), Sean Roberts (Wax Trax! / TVT Records) and others. There's also a lot of backstage footage in the venue (The Fillmore, Washington DC) and on the tourbus, meet & greets with fans, interviews with John in his home studio and we also get to see the other Ministry members Sin Quirin, AAron Rossi, Tony Campos and Cesar Soto. Everyone knows John in their own special way, some for more than 30 years! Those connections are explained clearly without any scrupules.
+ + + : The Director's Cut features 3 dvd's and contains a lot of extra footage to watch. Going behind the scenes is always fun and shows another side of the artist. The documentary is also available as digital download (video on demand) on Vimeo.
– – – : Just because of the overload of footage it takes a lot of time to watch all the stuff so one might lose the track a bit.
Conclusion: This documentary shows a clear image of John Bechdel as artist but also as a father, family-man and friend. It is definitely not the usual tour-story that you expect!
Label:www.s6k.com