Interview with Dirk Da Davo: 'The Music You Listen To When You Are A Kid, Stays Forever In The Back Of Your Head'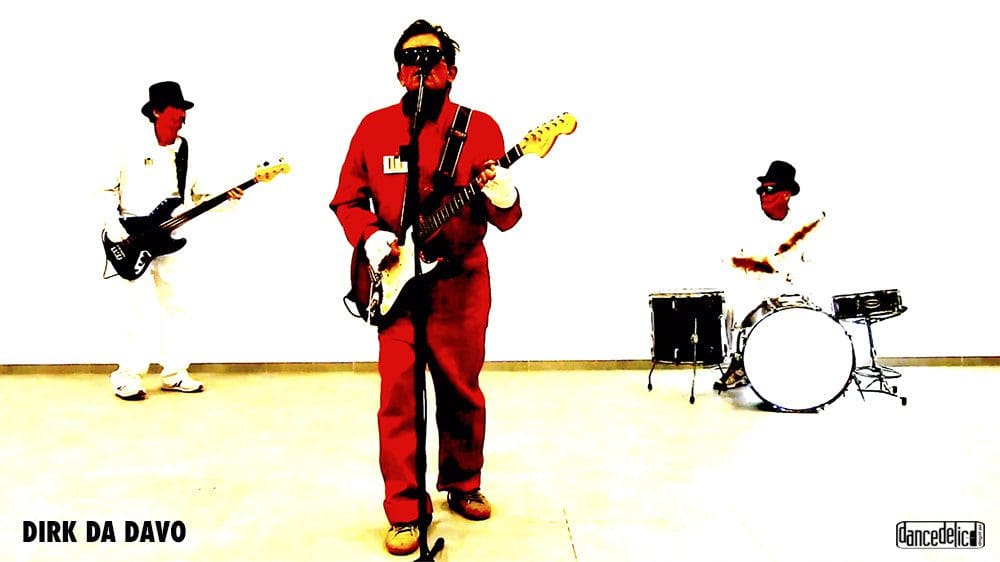 Who says Dirk Da Davo thinks The Neon Judgement! Even if this band remains one of the pioneers and true references in the Electro-Underground scene, Dirk has been involved with numerous other projects. The recently released album "Retrospective 1987-2023" is an opportunity to discover those projects; a fine selection from Dirk Timmermans' (he's real name) work over the thirty six past years aside from The Neon Judgement. The album has been released on vinyl format by Je M'En Fish and features ten songs. Each title of the work inspired me to ask a questions to Dirk. This is a short story of this Belgian living legend of Electronic music… and more…
(Courtesy by Inferno Sound Diaries)
Q: The album takes off with "King Of Fools" which is probably the most surprising song from the album. It sounds sexy while the slide guitar has something pretty American-like. What is this song all about and what does it say about the music you're listening to?
DDD: The song is about the feeling that got created during the lockdown and the absurdity of certain measures taken which oppressed the people like never before. And I am questioning that in the song. 'Will you obey the king of fools? Is there a way to neglect his rules? In a way he seems modified… Do you think he is justified?' It is about this new created normality which I can't get used to.
Musicaly it is not that far away for me. As a young kid I grew up with my father's western music compilation records. And the music you listen to when you are a kid, stays forever in the back of your head… It's a bit American/Western. It's not the first time that it shows up. With The Neon Judgement we did the albums "Blood And Thunder" (1989) and "The Insult" (1991)who also have a American Tex Mex vibe in some album tracks.
Q: "Ozz" is a track you composed together with Jean-Marie Aerts. I didn't exactly expect you both composing music together. How did you get in touch and how was it working together?
DDD: I know Jean-Marie already for a long time. He produced some album tracks for The Neon Judgement's "Blood And Thunder"-album in 1989. He played the bass on The Neon Judgement's "Jazzbox"-single in 1998 and we even did some experimental dub vinyl releases together in the 90s. And in a way we stayed connected. I live in Spain and Jean-Marie and his wife decided to come over for a vacation. I have a recording studio in the place where I live. It took exactly 2 days after his arrival and we started recording jam sessions. We finalized an EP and we decided to call our project DDDJMX. We released the digital EP in 2017 by the same title: "DDDJMX". At the end he visited me 3 times which resulted in 10 recordings we digitally released in 2020 as the "Oceaned"-album. It was interesting. Jean–Marie left me completely free in production , arrangements and all regarding the tracks. An honor for me that he gave me his confidence! I feel flattered.
Q: "The Unreal" sounds to me as 'modern' The Neon Judgement. Are you sometimes nostalgic when evoking The Neon Judgement and do you think it's really over now -especially because you went back on stage again since the so-called farewell concert in the A.B.?
DDD: Oh really? It was not intended like that. No, I am not a nostalgic person at all or it must be about my childhood. I always prefer to look ahead and try to find new challenges. That is where the oxygen is! We had a fantastic trip with The Neon Judgement; I'm grateful to the fans but one day you have to call it a day. But never say never, I like to keep these things open… What I enjoy now is recording new music and develop myself further as a musician, not to play the same tracks over and over again.
Q: "Where Even Angels Fall" sounds definitely 80s like. How much of the young Dirk Da Davo from the 80s do you still recognize in your music and approach today?
DDD: That is a difficult question. I think through all my career I kept my personal touch, but it might have been influenced with the musical surroundings at certain periods… But I still carry the DDD label over all I think. No compromises for better business.
Q: "Sexhead" definitely is my favorite song from the album which reminds me of Cabaret Voltaire. I think to know Cabaret Voltaire have been one of your influences. What did you like in their sound and did you ever got the chance to get in touch with Richard H. Kirk -who passed away in 2021?
DDD: An influence is perhaps a big word. We felt more like-minded. I liked the way they approached music from their first album on. The sound –experiments, the search for something new and with that sound they represented the times in which we lived. I met Richard once yes; I think that was during the first half of the 80s. We shared a venue in our hometown, Leuven, a venue named Lido with as line-up: The Neon Judgement, Cabaret Voltaire and 23 Skidoo. Oh what a night full of impressive music! ! 😉
Q: "Meat Cathedral" is another 80s song which was released by your side-project If It Moves. It's a project you set up with Glenn Frank -who also contributed to songs of The Neon Judgement right? What was this project all about?
DDD: The project happened by coincidence. I joined Glenn's band Street Ducks at the time as an extra guitar player. We shared a rehearsal room and one evening I was there alone with him. We started to program some industrial beats, I took a guitar and Glenn a microphone and what you hear happened on the spot. A week later we were recording the track together with Ludo Camberlin in his studio and it got released on vinyl. Glenn was part of The Neon Judgement for a short period as a bass player, but not as a song writer.
Q: "157" reminds me of the early minimalism from Front 242. I can't remember you ever did something together with the guys of '242'. Was there a connection or friendship? Rivalry? Just respect?
DDD: There was an undercooled friendship, for sure no rivalry no. I remember a big party we had together in the 80s in Sweden, were we shared the stage in a double bill. We ended up throwing tables to each other during the after party, but it was just for fun! 🙂 Tour stress that is! 😉
Patrick Codenys also helped me out preparing the recordings of The Neon Judgement's "Mafu Cage"-album. We were getting into sampling, but we didn't have a sampler ourselves. That is when Patrick proposed that I could come over to his house to prepare samples for the "Mafu Cage"-sessions because they had a sampling machine.
"157"is one of my favorite Neon Electronics recordings produced by Glenn Keteleer (Radical G) who is my partner in the project now since 10 years.
Q: "Strive" is one of your 'new' songs but what are you actually busy doing? And who are you working with? And is there an artist you really would like to work with?
DDD: I am busy doing what a musician does: making music and enjoying it. And I try to run my digital label as good as I can.
I am all the time working on songs and demos with Sanchez (the Mexican) under DD Sanchez, solo etc… Hopefully after summer we can produce new Neon Electronics music.. After summer I will release a digi-EP with new DDDJMX music. There is always something going! There's not really a musician that I can directly think of , but for sure I would like to deliver music for a Quentin Tarantino movie if that counts also!
Q: Talking about Sanchez, "Cities In Dust" is a song from your project together with him. The project DD Sanchez remains one of the most surprising ones and I dare to say a kind of antidote to your involvement with The Neon Judgement. What's the 'bonus' in your career of DD Sanchez?
DDD: It's a challenge for myself. From the beginning of the project (first release 2019 "Z"-EP) I had the intention with DD Sanchez to write and create a less dark kind of music. A real challenge when you are mostly known in a darker scene and maybe not so wise but a musician should always follow his instinct and his heart . We released a full digi-album October 2022 and it got titled "HappyGrey" The title carries the load: it not really happy Pop music and neither very dark music. So it is "HappyGrey" music.
Q: "In Dreams" was originally written in the early 90s and sounds to me as The Neon Judgement injected with Techno. What did you keep in mind from this (r)evolution in sound called Techno?
DDD: "In Dreams" was recorded and released on vinyl format under DDD Program in 1992. During those times I was into club music and Techno. I think the Techno scene took over the thing that we started as the next generation. They distilled it down to its essence. Nowadays I still enjoy quality Techno music. I am a secret fan of Amelie Lens, also a Belgian DJ artist, but don't tell anyone !
Since you're here …
… we have a small favour to ask. More people are reading Side-Line Magazine than ever but advertising revenues across the media are falling fast. Unlike many news organisations, we haven't put up a paywall – we want to keep our journalism as open as we can - and we refuse to add annoying advertising. So you can see why we need to ask for your help.
Side-Line's independent journalism takes a lot of time, money and hard work to produce. But we do it because we want to push the artists we like and who are equally fighting to survive.
If everyone who reads our reporting, who likes it, helps fund it, our future would be much more secure. For as little as 5 US$, you can support Side-Line Magazine – and it only takes a minute. Thank you.
The donations are safely powered by Paypal.