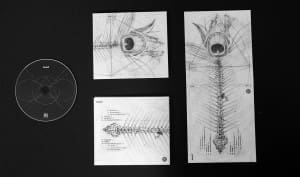 We get pitched a lot of news items, also by labels and PR people from out of the industrial scene, and sometimes there are some real pearls to be found there. Today we received a news item that especially caught our attention after listening to the material: the self-titled solo debut album by Inner8. Inner8 is Daniele Antezza, half of Dadub. His "Inner8" album will be released on June 8 via Undogmatisch, the new imprint Antezza has founded along with long-time collaborators Mirco Magnani (aka T.C.O) and Valentina Bardazzi.
Though the Inner8 moniker has been in existence for 7 years as a private nickname for his "experimental anarchist sounds", a full- length LP is just now surfacing. So what can you expect? The material will certainly please those looking for minimal, noise infested beat driven dark techno (Mondkopf comes to mind), add to that some weird samples and ethnic touches and you have the recipe for success, at least when it comes to grabbing our attention. Check out the previews below:
Inner8, in collaboration with sYn, has also created a new A/V live show, its teaser can be found below. Know that sYn has been collaborating with Aphex Twin since 2010 for the live shows, as visual artist and video engineer.