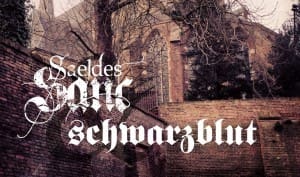 "Virginis Memoriae" is a brand new 2-track split-single uniting Saeldes Sanc and Schwarzblut. The Medieval-Gothic Folk Ensemble Saeldes Sanc is the solo-project of Hannah Wagner who is also known for her vocal work with Helium Vola together with Ernst Horn (Deine Lakaien). Both Hannah and Zeon (Schwarzblut) share a passion for ancient languages and romantic poetry and that was the trigger for their collaboration.
Zeon approached her for a possible collaboration: "Before I knew, I found myself working on a remix of "Virginis Memoriae", I picked that song because of its beautiful melodies and emotional vocal performance. My aim was to put Hannah's voice in a new organic-electronic context, while keeping the atmosphere and drama of her operatic performance."
Next to this remix of an older track, Schwarzblut also present a new song from the recording sessions of their forthcoming 4th studio album.
The 2-track single is available for download now from Bandcamp (and later on via iTunes, etc.), you'll receive an immediate download of one track, the second track follows on the official release date 06/06/2015, that's in a few days. You can check out the single below.