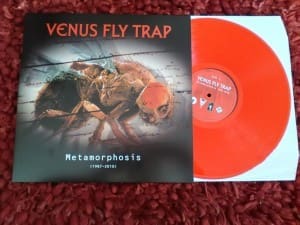 Out now is an extended upgraded vinyl version of the previously released Venus Fly Trap compilation "Metamorphosis 1987 – 2007" on Big Blue. Pressed on red vinyl (including a download card), the Venus Fly Trap compilation "Metamorphosis 1987 – 2010" holds 11 tracks from 1987 up until 2010, just before their "Nemesis" album was released.
The vinyl is limited to just 500 copies and can be ordered right here.
Formed in Northampton (UK) after parting company with electronic outfit Attrition in 1986, Venus Fly Trap released 7 studio albums between 1988 and 2011. The band was formed by Alex Novak (vocals, formerly of Religious Overdose, Attrition, and The Tempest) and John Novak (guitar, vocals), and Tony Booker on bass guitar prior to their debut twelve-inch single "Morphine" in March 1988. By the 2000s the permanent members were down to Novak and Denton, and they released their latest album, "Nemesis", in 2011.