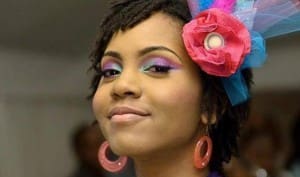 Belgian electro act Psy'Aviah is revealing the first song from their forthcoming new album "Seven Sorrows, Seven Stars". For the new "Never Look Back / Words" EP Yves Schelpe decided to go trip-hop featuring the NY singer Ellia Bisker from the jazzy act Sweet Soubrette. Next to "Never Look Back" you'll find "The "Words", an exclusive non-album song featuring the Jamaican female singer J. Airi (see the photo) delivering a track which is blending multiple ethnic influences. Quite a daring approach in our rather conservative electro scene.
Alfa Matrix labels the new work by Psy'Aviah as being modern jazz electro pop. The 2 songs are backed with 5 bonus remixes by Jean-Marc Lederman (ex-The Weathermen), B-Sights (Dizkodude producer), house producer Gavril, electro dance DJ Simon Carter and Baterist Sintetic.
When you pre-order the "Never Look Back / Words" EP right now from the Alfa Matrix Bandcamp page, you get 2 tracks now plus the complete 7-track EP the moment it's released on October 23rd. You can listen to the 2 tracks below.