Gary Numan – 'After doing this for over 35 years I still get excited about what's around the corner' – Tech-Talk with DJ Wildhoney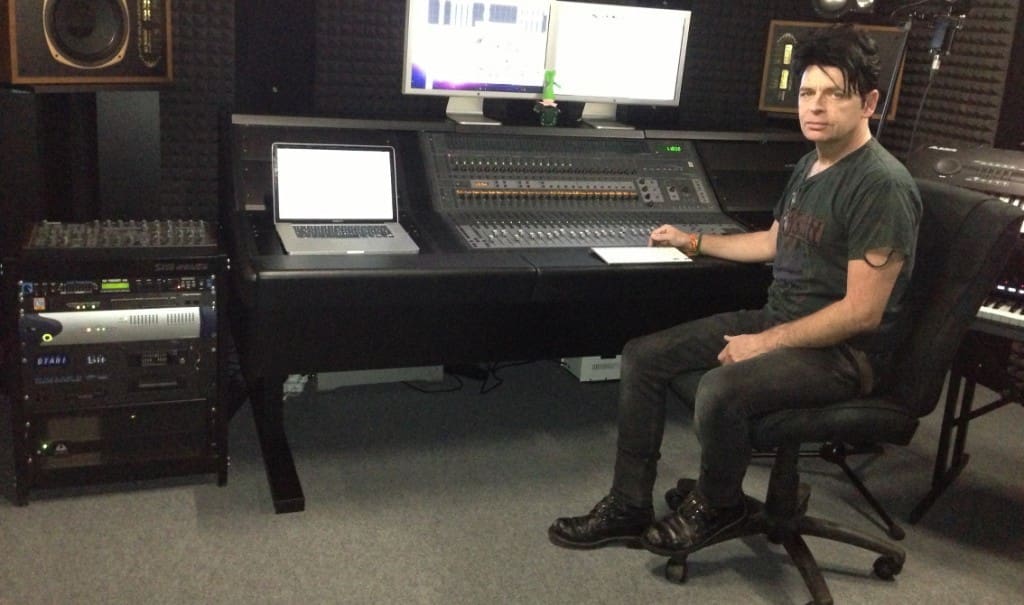 Gary Numan (who currently lives in Los Angeles) was the lead singer of the British new-wave band Tubeway Army before he started his solo career which made him a real pioneer of electronic music. He is currently working on a new album via crowdfunding, which is scheduled to be released in October 2016.
SL: How long ago did you buy your first keyboard ever? Which technology did it use (MIDI, 3.5″ floppy disks,…) and do you still own it?
GN: I bought my first keyboard in late 1979, a MiniMoog. It was pre MIDI, pre disk, pre pretty much everything to be honest. I do still own two of them, one is on loan to the Hard Rock and is part of a display somewhere in the U.S. The other is in a case in my friends garage in the UK. I bought about six or seven, maybe more, back in the late 70's / early 80's so I don't know of either of the two I have left are that first one I bought. I'm not sentimental about synths, never have been. I don't think about them with a tear in my eye and look back with affection at various synths over the years. It may sound an odd thing to say but there is far more to electronic music than just synthesizers. It's all about creating interesting sounds, and sound can come from anywhere.
SL: Which computer(s) and software do you currently use in your (home)studio?
GN: I have a Mac and I run Pro Tools 10. I would go up to Pro Tools 11 but with 11 Avid, in typical fashion, stopped supporting the desk I use, my Control 24, and I love that desk, so I've stayed with 10 for the time being. I'm not a big fan of Pro Tools strangely enough, it seems to create as many problems during a session as the parts you record. But, I know it reasonably well and I'm actually too lazy to want to put the time in to get anything else. The devil you know I guess.
SL: Can you describe all synth gear and hardware you use nowadays? Which piece is the most valuable for you?
GN: That is very easy as I have an extremely minimal set up. At the moment I have three hardware synths in the room, the Moog Voyager, Access Virus and an old Alessis Quadrasynth that I've had for a very long time. I don't have a hardware sampler or a drum computer and my DAT machines have all been retired years ago. I have the usual array of soft synth Plug Ins, Omnisphere 2, Trillion, Stylus RMX from Spectrasonics, most of the Native Instruments stuff, Ethno 2 from MOTU, and some cool stuff from a German company whose name I forget unfortunately. I have a Radar 2 system as all of my older back catalogue was saved onto Exabyte and I need the Radar machine to listen to it. I am slowly transferring that into Pro Tools but it's a big job and very boring so I do it as and when I need to. I have guitars, bass guitars, an upright piano but that's about it. The MiniMoog and some other older synths I still have, and OBXa and some Yamaha and Roland synths mainly, I don't use much at all and they mostly live out in my garage.
SL: When performing live, which keyboards and software do you use on stage?
GN: The keyboard players bring their own gear often and add that to what I bring, and it changes all the time, but the Virus is the heart of it. Recently we did use the OBXa on a tour or two and it was surprisingly reliable but it's not something I'd want to take out all the time. I don't use software live at all for playing anything, a little for the backing tracks and for that we use Logic, but the keyboard players use a variety of things, Main Stage being very common but increasingly Apps for the iPad are becoming part of the rig.
SL: According to your opinion, which are the most legendary synths ever produced?
GN: In that list the DX-7 I never liked, the M1 I love and still use a soft synth version of but only for writing, not for recording. I thought the M1 was quite special when it came along. The Juno and the Jupiter are considered classic but never really worked for me. The D-50 was genius and I loved it. It was tricky to programme but once you got your head round that you could come up with some great sounds. Never had an OB8 but my OBXa was amazing, the best of that generation by far. It could make sounds that were so useable and different to what was coming out of the other machines around at the time. The MiniMoog was great, legendary now, but I actually preferred the Arp Odyssey. Something more aggressive about it somehow. The Emulator I never really got to know at all, the Virus is amazing when it works but it's not the most reliable synth I've ever had, and I have several actually. I had a friend who had a K2000 and loved it but I never used it and I know nothing at all about the Quasimidi Sirius. What's missing from your list is the Prophet 5 though, and the Polymoog. Both shone very brightly for a while, in my life at least. Plus you have the computer based machines, the PPG, Fairlight, Synclavier which were all amazing and troublesome in equal measure but were capable of really incredible sounds and manipulations. I would suggest though that the MiniMoog is arguably the most legendary synth ever produced. It's certainly the one that got me involved with electronic music.
SL: And which are according to you the biggest synth artists/bands ever?
GN: The biggest has to be Depeche Mode I would have thought, in terms of success and audience size anyway. Can't think of too many others that fill stadiums in every corner of the world.
SL: Share with us the worst case scenario that ever happened to you live on stage or in the studio!
GN: Software crashes and defects are almost daily occurrences so they are nothing strange or surprising to anyone that works with technology. I did once have a MIDI router that somehow overheated and actually caught fire and destroyed a two inch tape that had several songs from a new album I was working on. That set me back months and was a real pain. Big disasters are actually quite rare. The problem I have is that every session seems to have one or two minor disasters and that absolutely ruins the creative flow. It's hard to keep an idea in your head when Pro Tools suddenly stops doing the important thing it was doing, or decides to rewrite or ignore your output set up, or refuses to load a Plug In you've used every day for the last month with no trouble. I find that constant trickle of little annoyances extremely disruptive and it drives me fucking mad.
SL: The unavoidable question: do you prefer analog or digital synths more? And what's your opinion about the virtual analog concept?
GN: I absolutely could not care less. I have zero interest in what, where, how or why the machine in front of me makes the noises it makes. My only concern is, do I like the noises. I honestly believe that if you are bothered about the analogue versus digital debate, if you care about that, then you have already lost sight of what we are supposed to be about, and that is sound. I make sounds in many ways. I walk around with a recorder, around the streets, when I travel, at all times, and I record everything I hear that's interesting. Those sounds are then kept as they are, or manipulated in the machines, and eventually some of them become music. I use synths, soft hard, analogue, digital. It could be steam driven for all I care, as long as interesting sounds come out of it. Synths play just a small role in the overall creation of my sounds so it really doesn't matter to me what they are.
SL: Isn't the digital technology evolving too quick and becoming too complicated for artists nowadays?
GN: I do understand that point of view but you don't have to buy or use every new version. You don't have to load every new upgrade. Be selective about when you move on to a new machine, or a new software package. Don't be sucked in by claims of how amazing your music will be if you just buy version 2 of whatever. Get to know what you already have, get as much out of it as you can, and then move up. So buy version 1, ignore 2 and 3, maybe even 4 and 5, and then go to 6 when you've exhausted all that 1 can do. I would like to see more training opportunities for the software packages, and training that is not stupidly expensive. They are increasingly complex and I think the manufacturers often assume a far higher level of knowledge than the average user has and so the manuals are often one step away from useless. They are to me anyway.
SL: How will the future of creating electronic music look like?
GN: I'm just a bad keyboard player so I have no idea what the genius's that create the amazing software and hardware that we enjoy are going to come up with next. All I know is that after doing this for over 35 years I still get excited about what's around the corner. We work in a very exciting genre of music, it is technology driven and so, by default almost, is itself constantly evolving and progressing in a way that no other type of music can possibly hope to match. But, if I could guess at one line of progress, it will be in how we interface with the equipment. We are still using a mouse or pad to control things, looking at a screen. I suspect that it's in that area that the next really big and creative advances will come.
Since you're here …
… we have a small favour to ask. More people are reading Side-Line Magazine than ever but advertising revenues across the media are falling fast. Unlike many news organisations, we haven't put up a paywall – we want to keep our journalism as open as we can - and we refuse to add annoying advertising. So you can see why we need to ask for your help.
Side-Line's independent journalism takes a lot of time, money and hard work to produce. But we do it because we want to push the artists we like and who are equally fighting to survive.
If everyone who reads our reporting, who likes it, helps fund it, our future would be much more secure. For as little as 5 US$, you can support Side-Line Magazine – and it only takes a minute. Thank you.
The donations are safely powered by Paypal.