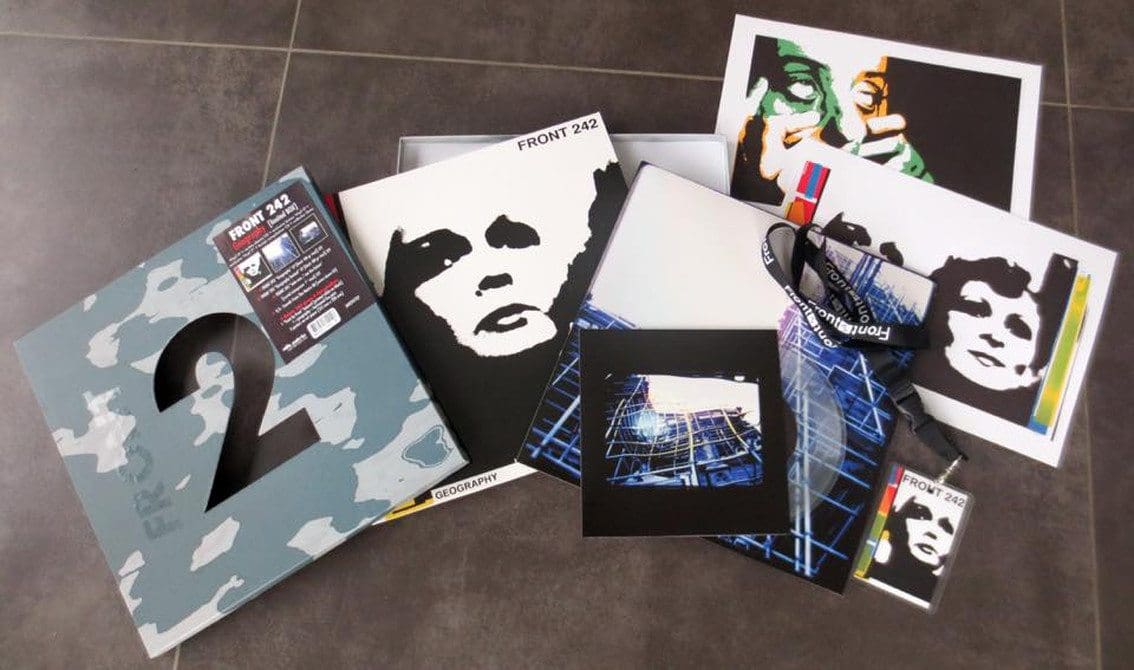 Those who follow us on Instagram have been treated exclusive news in the past few days with teasers and pictures from what is now already a historical release: Front 242's "Geography" album in a super deluxe boxset with loads of extras. The "Geography" anniversary collector box is strictly limited to 1242 copies, sold out is really sold out, and we advise you to pick up your copy right now from the online webstore of Alfa Matrix which also issued the "<Filtered> Pulse" boxset earlier on.
The vinyl sized limited boxset holds plenty of material and you can see below:
1 x FRONT 242 "Geography" LP (black 180 gr vinyl)
1 x FRONT 242 "Geography" CD carton sleeve (with 3 bonus tracks)
1 x FRONT 242 "Geography limited" LP (black 180 gr vinyl) A collection of songs taken from the "Geography" sold-out limited 2CD box edition released by Alfa Matrix in 2004 including pre-FRONT 242 material under the PROTHESE and UNDERVIEWER monikers as well as special instrumental and aerial version of FRONT 242 early songs.
1 x FRONT 242 "take one / see the future" (crystal transparent 7″ vinyl) An exclusive 7" single which could have been released back in the early days…!
1 x V/A – Sounds From The Matrix 08 (carton sleeve CD) A bonus Alfa Matrix label compilation featuring 18 label mates of FRONT 242.
1 x "front by front" lanyard (printed white on black)
1 x « geography » laminated live pass
2 x "Geography" posters on art paper (315 mm x 220 mm)
The next, and final boxset in this trilogy, will be "No Comment + Politics Of Pressure" of which the details will be announced pretty soon.
Next to the boxset, Alfa Matrix also releases 4 vinyl version of the album in 4 different colours (blue, red, yellow and crystal transparent), all limited to just 242 copies (you can order these here). Also here: sold out = sold out! A carton sleeve CD version of this album is also included in each vinyl with 3 bonus tracks: "Ethics", "Principles", "Body To Body".