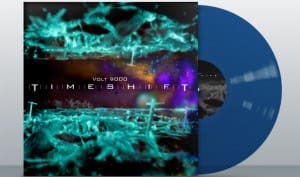 Today you can discover an exclusive stream of the Volt 9000 track "Gone in two" taken from the band's new upcoming 11-track album "Timeshift" which is available on vinyl via Storming The Base. At Side-Line we were quite amazed by the excellent quality of the material that we immediately requested to offer a track for free streaming from our pages. When something is good, it definitely needs to be heard!
Out via Artoffact Records, this is the 5th album from the Toronto-based duo and the second for the label Artoffact. "Timeshift" is the first vinyl release for the project. The band also confirms that the album was made with vinyl in mind: "we wrote, mixed, and had it mastered for the medium," says singer Cory Gorski.
The album is available on blue vinyl and on black vinyl, both in rather limited quantities.