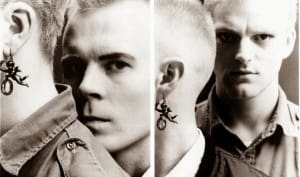 In October Erasure will release a brand new version of "Sometimes" via Mute Records. The new version comes in a new mix by David Wrench and will be available as a CD single and download featuring new remixes plus vault material.
The single acts as a teaser for the release of a new 3CD compilation, "Always – The Very Best of Erasure", yet another best of, which will be available in a special hardback book format featuring a selection of the band's singles from 1985 to today alongside 2 further discs of remixes (new, old and rare remixes).
2016 will also see an anthology boxset as well as a series of vinyl album reissues on 180g heavyweight vinyl.
The English synth pop duo Erasure, consisting of singer and songwriter Andy Bell and songwriter and keyboardist Vince Clarke, formed in London, and entered the music scene in 1985 with their debut single "Who Needs Love Like That". Their debut album, "Wonderland", was mostly recorded in 1985 and released in June 1986.