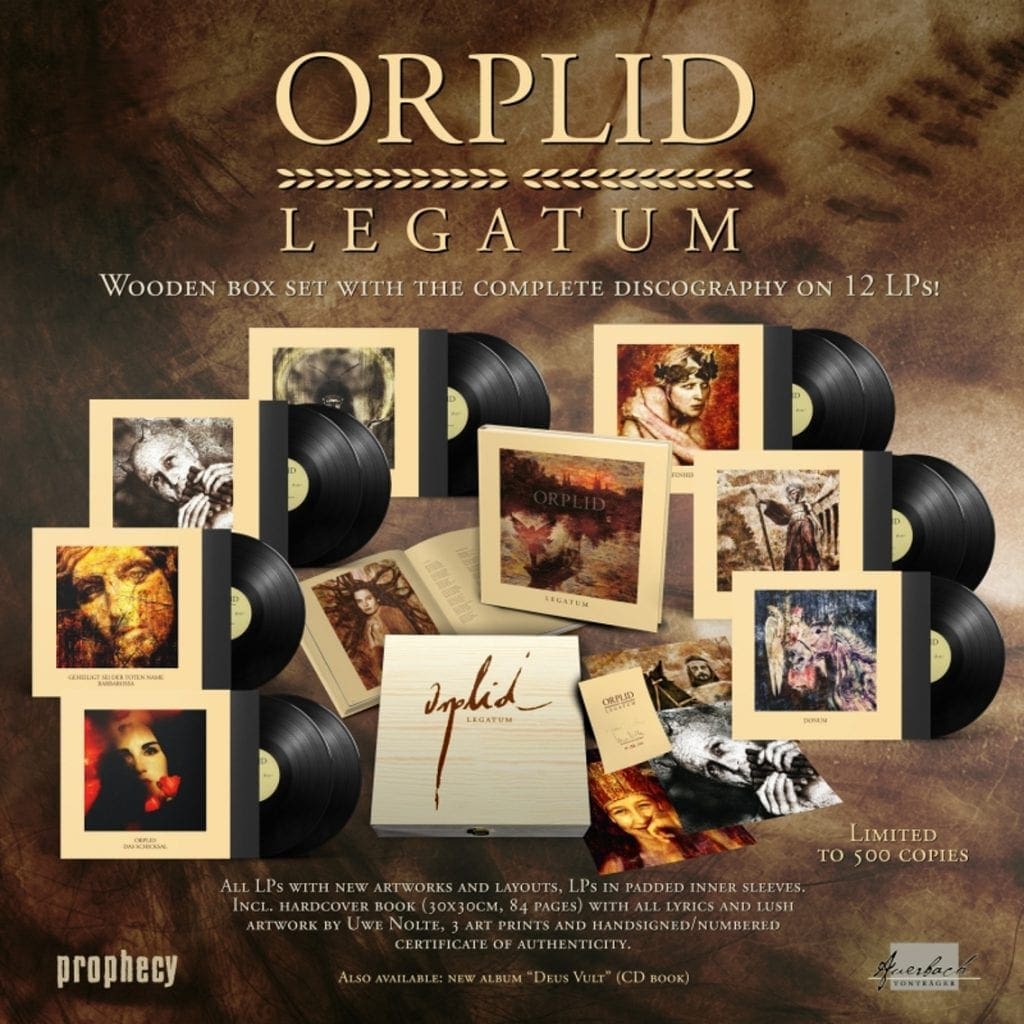 Out in late September will be a wooden box, limited to 500 copies, including the entire Orplid discography on 12 individual vinyls. The set comes with a 84-pages hardcover book, 3 art prints and numbered and signed certificate.
The majority of the works available in this set are released on vinyl for the first time ever. It contains all of the group's 5 studio albums, including their new work "Deus Vult", and all EPs, alongside 16 additional tracks, partly rare (compilation contributions, bonus tracks), partly unreleased.
The 84-page book holds all lyrics, illustrations by Uwe Nolte and an Orplid artist photo gallery. Furthermore, "Legatum" features three prints with art by Uwe Nolte, a certificate of authenticity, hand-signed and numbered by Orplid themselves, as well as a branding on the lid.
Included works:
"Orplid"
"Das Schicksal" (EP)
"Geheiligt sei der Toten Name" (EP)
"Barbarossa" (EP)
"Nächtliche Jünger" (incl. 3 bonus tracks)
"Sterbender Satyr" (incl. etching)
"Greifenherz" (incl. 3 unreleased bonus tracks)
"Deus Vult" (incl. unreleased bonus track)
"Donum" (rarities 1996-2000, 9 tracks incl. 1 unreleased)
Orplid is a neofolk, martial, post-industrial and experimental music group of German musicians, Uwe Nolte and Frank Machau. The name is drawn from the poem "Gesang Weylas" by Eduard Mörike, beginning "Du bist Orplid, mein Land" ('You are Orplid, my land'). The band has progressed over the course of their discography from acoustic folk peppered with instruments like the piano, organ, and cello, to a more experimental minimalistic style.