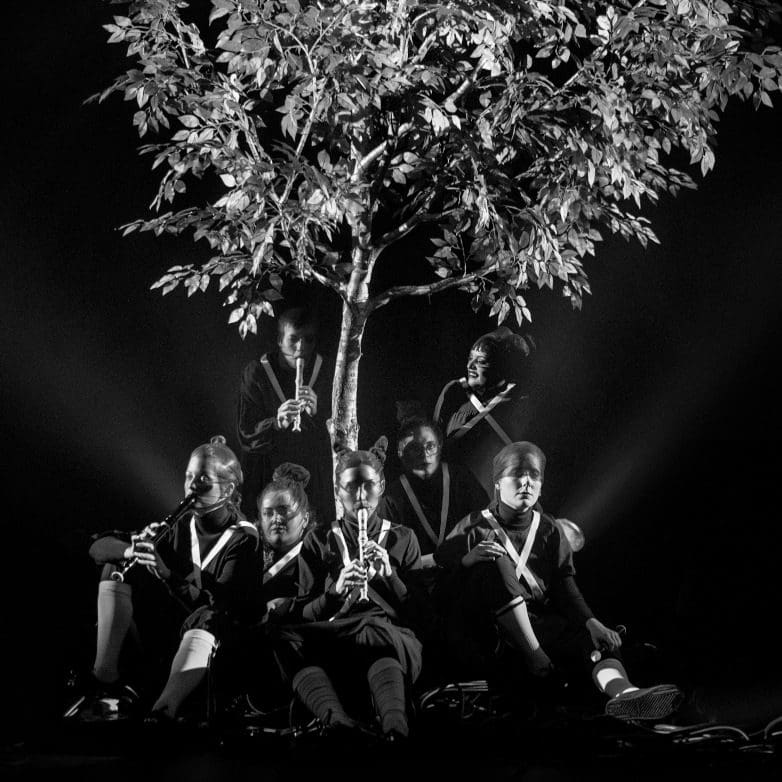 (Photo by Jamie Cameron) Out on 19 March 2021 on NYX Collective Records is the new album by the electronic drone choir act Gazelle Twin & NYX. Their debut release, "Deep England", will be an 8-track album and will be available on vinyl, CD and digitally.
Gazelle Twin (aka Elizabeth Bernholz) and NYX originally created "Deep England" for live performance with Movement Director Imogen Knight, Sound Associate Peter Rice and Designer Chloe Lamford. The performance premiered at the Queen Elizabeth Hall in November 2019.
"Deep England" was transferred to the studio soon after and completed with the collaboration of performers like Adélaïde Pratoussy, Cecilia Forssberg, Elizabeth Bernholz, Natalie Sharp, Ruth Corey, Shireen Qureshi and Sian O'Gorman. The album was co-produced by Marta Salogni, Sian O'Gorman (NYX) and Elizabeth Bernholz (Gazelle Twin) with mix and additional programming by Marta Salogni, and mastering by Heba Kadry.
Rooted in English pagan and sacred music, "Deep England" is an electronic-choral expansion of Gazelle Twin's 2018 album "Pastoral". On this new album tracks from "Pastoral" have been radically reworked and presented alongside original compositions by NYX, Paul Giovanni and William Blake.
You can already check out the track "Fire Leap".
The album trailer is available here.