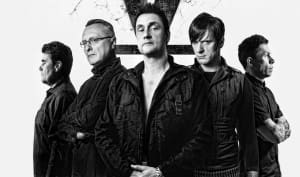 (Via DJ Wildhoney) The German EBM and industrial-pioneers of Die Krupps have announced that a new album will be released in September 2015 via SPV Records. The title of the album will be "V – Metal Machine Music". The band also underwent some line-up changes, recently 2 members were added: permanent drummer Volker Borchert (who played in Die Krupps already before) and live-guitarist Steve Roemhild (ex-Warpath).
The band also announced a European tour in september 2015, supported by Red Paintings and Janosch Moldau. During this tour a live CD/DVD of the previous "The Machineries Of Joy" tour will be available.
Speaking of releases, fans should already make sure to have the "Robo Sapiens" vinyl in their collection which you can order right here. It has not been announced that much so maybe you missed it!
Tourdates:
02.09 NIEUWE NOR – HEERLEN (NL)
03.09 ATAK – ENSCHEDE (NL)
04.09 NCN FESTIVAL – LEIPZIG (DE)
05.09 IN EXTREMO JUBILAUM – ST. GOARSHAUSEN (DE)
06.09 FZW – DORTMUND (DE)
08.09 NACHTLEBEN – FRANKFURT (DE)
09.09 FEIERWERK – MUNCHEN (DE)
10.09 SEDEL – LUZERN (CH)
11.09 FREAKOUT – BOLOGNA (IT)
12.09 MMC – BRATISLAVA (SK)
13.09 SZENE – WIEN (A)
15.09 DIVAN DU MONDE – PARIS (FR)
16.09 GARAGE – LONDON (UK)
17.09 KUFA – KREFELD (DE)
18.09 TANZRITUAL FESTIVAL – NEUNKIRCHEN (DE)
19.09 K17 – BERLIN (DE)
20.09 PROGRESJA – WARSAW (PL)
21.09 LUCERNA MUSIC HALL – PRAG (CZ)
22.09 BABEL – MALMO (SE)
23.09 DEBASER MEDIS – STOCKHOLM (SE)
25.09 NOSTURI – HELSINKI (FIN)
26.09 KLUBI – TAMPERE (FIN)
29.09 MELKEFABRIKKEN – SARPSBORG (NO)
30.09 KNUST – HAMBURG (DE)