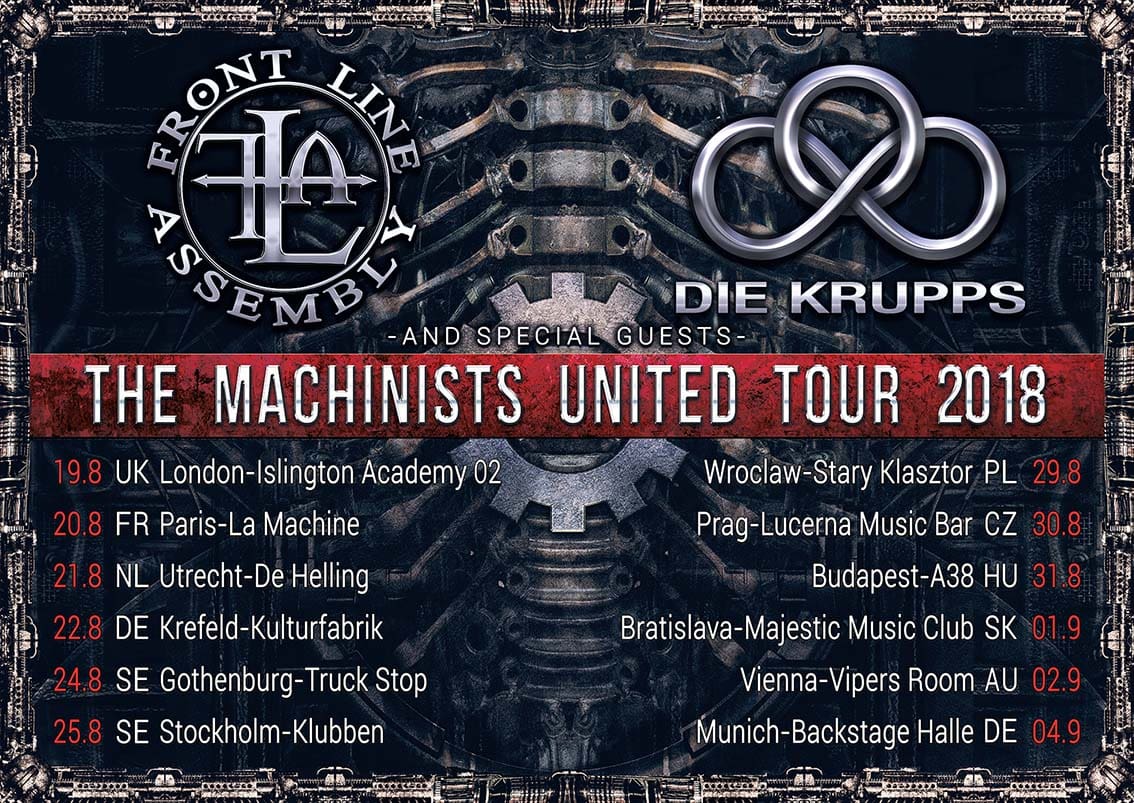 Die Krupps have had enough. Here's what their most recent press release says: "The answer to punitive tariffs on steel? So far it has been business, now it becomes personal! The Düsseldorf steel workers show solidarity with their fellow men, and show the POTUS the musical middle finger after another moment of madness, and shout an angry "Fuck You" in his direction!"
The new single "Fuck You" will be heard in selected clubs and at the upcoming concerts at the end of April where they'll be joined by Front Line Assembly.
Don't forget to check the vinyl re-issues of the Die Krupps back catalogue right here, and the Front Line Assembly vinyl reissues right here!
Tourdates
* postponed "V½" Tour 2017
** + Front Line Assembly
26 APR 2018 KESSELHAUS* – BERLIN (DE)
27 APR 2018 SCHLACHTHOF – WIESBADEN (DE)
28 APR 2018 PLAGE NOIRE FESTIVAL – WEISSENHAUS (DE)
29 APR 2018 ZAKK* – DUSSELDORF (DE)
17 AUG 2018 W-FESTIVAL – AMOUGIES (BE)
19 AUG 2018 ISLINGTON ACADEMY O2** – LONDON (UK)
20 AUG 2018 LA MACHINE** – PARIS (FR)
21 AUG 2018 DE HELLING** – UTRECHT (NL)
22 AUG 2018 KULTURFABRIK** – KREFELD (DE)
24 AUG 2018 TRUCK STOP** – GOTHENBURG (SE)
25 AUG 2018 KLUBBEN** – STOCKHOLM (SE)
29 AUG 2018 STARY KLASZTOR** – WROCLAW (PL)
30 AUG 2018 LUCERNA MUSIC BAR** – PRAG (CZ)
31 AUG 2018 A38** – BUDAPEST (HU)
01 SEP 2018 MAJESTIC MUSIC CLUB** – BRATISLAVA (SK)
02 SEP 2018 VIPER ROOM** – VIENNA (AU)
04 SEP 2018 BACKSTAGE HALLE** – MUNICH (DE)
08 SEP 2018 VOLLE KRAFT VORAUS FESTIVAL – NEU-ULM (DE)
Support on 26 + 27 + 29 APR 2018: Johnny Deathshadow & Barabaz