Genre/Influences: Dark-ambient.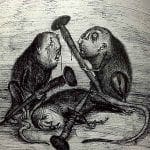 Format: Digital, CD.
Background/Info: "Atra Mors" resulted from the efforts between "Ilya Affectvs Kein" (Corona Barathri and still running Speculum Diaboli Records) and
Anthony Armageddon Destroyer (Paranoia Inducta). Both artists have been active in the scene for a couple of years now and have released multiple productions. This work is a split album inspired –or driven, by the great plague. That's rather interesting and it even has something prophetic as this album was released before the Covid 19 pandemic.
Content: Corona Barathri (Russia) opens the hostilities with 5 tracks. The work is extremely dark featuring dark sound waves, multiple noises and passages with Gregorian chants. But some tracks are also revealing heavy, monstrous sound treatments. This project is fascinated by the devil and you clearly will notice a kind of tormenting sphere hanging over the work. It definitely has something devilish and haunting. Notice by the way 3 songs are featuring guest artists and among the list there's the opening track together with Paranoia Inducta" while the last track is a cover version of a song originally performed by Melek-Tha.
Paranoia Inducta (Poland) moves on, accentuating the ghost-like effect supporting this album. There's a part with spooky, whispering vocals mixed with scratching, metallic noises. On another cut you'll notice minimal electro bleeps with some voices in the background. This work has something more ritual-driven. Both artists are using similar elements like the noise of crows, which is a great match with the concept of the work.
+ + + : I'm not a huge fan of split releases, but this album features two complementary artists. You don't even get the impression of listening to different projects, which makes the album pretty fluid. Both artists have created an intimate atmosphere, which is however dominated by a constant and extremely obscure atmosphere. It even feels disturbing because of the strong visual appeal. Both projects realized a totally accomplished work, which makes this album absolutely essential if you're into this kind of music.
– – – : This is a great piece of music although I would have preferred to see both artists releasing each a full disc. So why not release a double album in the future?
Conclusion: The plague had caused millions of victims and this album is a very efficient sonic transposition of these distant times… but not that distant at all when the world is confronted with the murderous Covid 19.
Best songs: Corona Barathri: "Elegia Pestilentiae", "Spiratio Atra, Mortifera" + Paranoia Inducta: "Peccationes Mundi", "Dies Irea".
Rate: (8).
Artists: www.facebook.com/corona.barathri / www.facebook.com/paranoiainducta