Mike Erkau (The_Empath) click interview: 'My Master Is The Universe'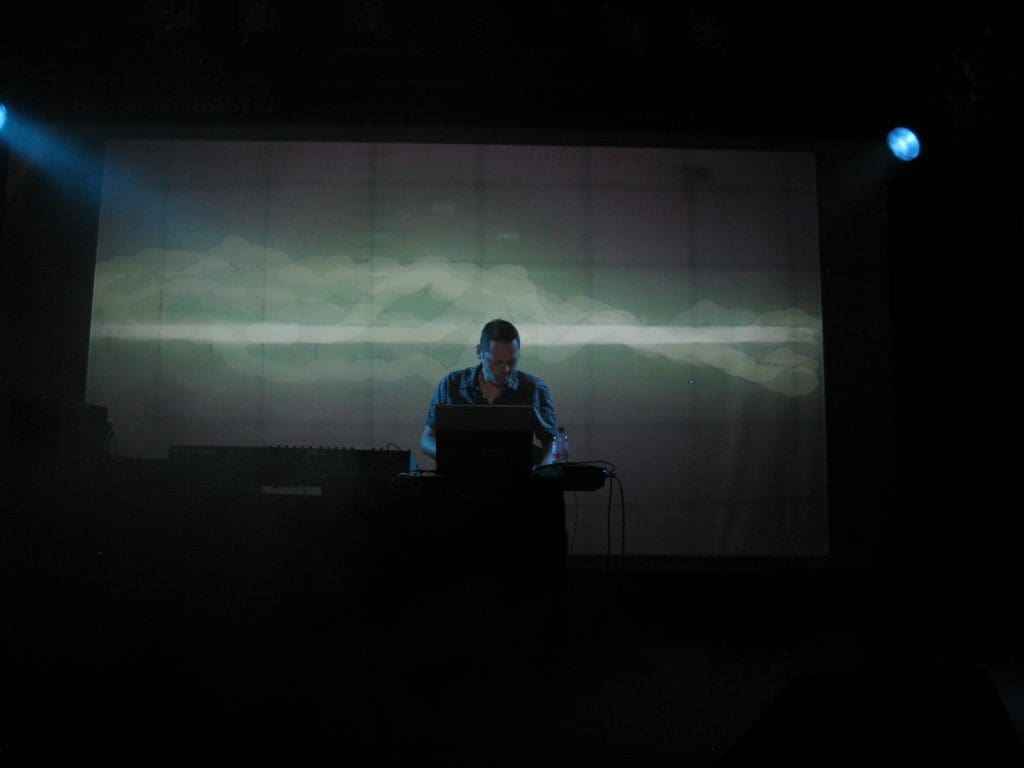 German musician Mike Erkau started making music forty years ago now! He got involved with multiple projects like Trackologists, Cosmic Noise Crew, Stimulus Response and his own sonic alter-ego The_Empath. Earlier this year Mike Erkau stroke back with the first new studio-album in eight years. "Black Holes" also is the first album released by Audiophob. This opus is a genius composition which is mixing good-old Ambient-Electro together with a more contemporary IDM touch; a kind of retro-futuristic voyage which might appeal for fans of Tangerine Dream and clock dva. I talked with Mike about this The_Empath masterpiece which took some time to get accomplished. This is without a shadow of a doubt one of the best albums from the year.
(Courtesy by Inferno Sound Diaries)
Q: I noticed you started dealing with Electronic music in 1993. What did you keep in mind from your early experiments and compositions and what remains today from the musician you were at that time?
Mike: It is a great challenge to consistently follow your path, to find your own style and to remain true to yourself. Not to lose sight of the big picture. To keep your heart and your antennae open for new things. Curiosity.
To think outside the box. To be inspired across all genre boundaries. It's like picking flowers away from the mainstream. Searching for sounds and musical structures that touch something somewhere deep inside yourself. Playing around, recreating, adapting, taking apart, picking apart, recombining to find out what it does to you, and what it might do to others. To share with soulmates and walk a path together. Taking perspectives, approaches into your own toolbox. Learning and getting better. That's exciting.
I see music as the perfect catalyst for any emotion, both positive and negative. In doing so, the balance should always point in the positive direction, because that generates the necessary energy for my musical journey. It's an ongoing process.
Q: I read your newest The_Empathalbum "Black Hole" took you a while to achieve. Can you give us more details about the concept and composition of the album? What did you try to express?
Mike: The original idea for "Black Hole" came up back in 2016. At various festivals I heard some musicians whose music appealed to me a lot, and I felt like trying out collaborations with them.
Originally, it was supposed to be 6 sound structures of 12 minutes each, the theme was already called "Black Hole", in the astronomical sense. The desire was to find out how something like that could sound. So I had 12-minute sound collages sent to me, which I wanted to use as a basis for adapting, refining and expanding them. A perfect playground, so far, so good.
A couple of massive impacts in the private sphere and the events that overruled everything valid until then in the years 2020 to 2022 threw me completely off track and pulled me emotionally into a deep black hole.
The rat race was stopped, no one could tell where it was going, unforeseeable consequences. Omnipresent powerlessness and ambivalence. Social, ethical and moral upheavals and everywhere only masked insecure, dissatisfied, annoyed and angry people.
The mourning for the many dead, while others stuffed their pockets. The emotional hell for empathic people. "Lost Your Cygnal", "Ergosphere" and "Supermassiph" are the most impressive sound documents for it. Luckily I always had the Cosmic Noise Crew around me at that time, and we used the lockdowns to revise the concept for the album in the studio, to explore sounds and to bring everything down to a good denominator.
That helped me a lot to get out of that black hole and not lose sight of the stars. To think positively. Examples of this are "Utopia", "Star Cradle", "Hypernova" and "Southern Hemisphere".
Q: The concept of black holes seems to be a perfect source of inspiration for Ambient music but how did you proceed to transpose the concept into sounds, noises and finally songs? And can you tell us a bit more about the equipment you used?
Mike: I experimented with my hardware synths for a while in the beginning, but somehow it all sounded too 'earthly', too limited. In 2016, I only had a very small home studio due to lack of space. So I started chopping up the source collages, looking for loops and micro events on a granular level and creating iterations of them with effects. At the time I was collecting freeware VST's – and experimenting my way through over 1000 plugins. Along the way I browsed the internet for sound samples -there are quite a few sound documents that have been made available to the public by NASA. Among them are recordings of the Cassini probes and radio wave emissions from supermassive black holes, e.g. TON 618, a distant, bright quasar in the constellation of the hunting dogs, or the black hole in the Perseus galaxy cluster. These cosmic sound machines can be experienced by human hearing through translation.
In 2019 I had begun to build a sound spaceship into my apartment, just as I had always wanted since 1993. Stuffed with hardware sound generators covering a spectrum of synthesis types as wide as possible. Just like in a spaceship cockpit.
In recent years, a lot of good hardware has come on the market, which is above all also affordable, as well as tons of ingenious VST plugins. I use these depending on my mood, controlled by a Novation KS5 as a master keyboard. As a mixer I use a Behringer X32Rack + S16, for the USB stuff a Swissonic 1916 with Sub Hub's. It really wasn't until 2020 that I had all the technical requirements in place to be able to use all these options at will. And that without hitting technical limits during every studio session.
The following hardware sound generators were used on the album, among others: Access Virus Indigo, Clavia Nordlead 2, Korg MS20 mini, Novation KS5, Arturia Microbrute + Microfreak, Waldorf Blofeld + Streichfett, Doepfer MS404, Roland GAIA, Behringer Neutron + Pro-1. VST plugins: Sonic Charge, GForce, NI Absynth(!) + Reaktor, Spire, Sylenth, Valhalla, Arturia V-Collection etc.
When I look back to 1993 – oh man. With my beloved Amiga500 with 1MB RAM and Clarity Sampler, Doepfer MS404, Novation Bass-Station Rack and Korg DW8000 with the most rickety keyboard I've ever experienced -without the possibilities of any audio warping and DAW controllers, let alone boundlessly huge sample libraries and tons of VST's. You had to be inventive and willing to experiment and have fun doing it. At that time, you couldn't buy creativity, and you still can't.
Q: You invited a few guest artists to collaborate on three tracks from the album. I'm especially wondered how the track together with Heimstatt Yipotash happened as both of you are still involved in Trackologists? What made this collaboration different? And do you still have further plans with Trackologists?
Mike: At that time I was already on the road for a while as a VJ with the guys from Heimstatt Yipotash and we hatched the idea for a joint music project on a trip to a gig. When I started with "Black Hole", the first Trackologists album (cf. "No Surrender, No Retreat") was just finished, and while rummaging through the huge collection of material, I stumbled across leftovers, field recordings and experiments, a few tracks played several times slower and so on. I then processed them further, added more layers to them and expanded them. I simply wanted to have these sounds on "Black Hole". The special thing about our collaboration was and is that we first and foremost understand and complement each other super humanly and musically and always have a good time together.
YES, there are further plans with Trackologists. After the whole difficult time, which has more or less burdened everyone in all areas, we have resumed the common track. At the moment we are working on a come-back EP and structuring sketches and ideas for a second album, whose theme and name is already fixed. It will follow the first album musically and in terms of content, with more lyrics and a musically more homogeneous concept. This will hopefully be followed, desirably, by a series of gigs where we can really let off steam for ourselves and the audience.
Q: Next to music you also have a true passion and fascination for visual creation. You already did numerous live shows for other artists. Tell us a bit more about this other aspect of your art and do you've plans about any kind of imagery for the The_Empath album "Black Hole" (think about live shows, clips…)?
Mike: My fascination for visual design has resulted from the desire to see another media layer at live gigs, complementing and enriching the music, performance and light show. Not necessarily just a flickering background wallpaper, but matching the music, reacting to the music. So to speak an amplifier for the message and thus for the transported emotion.
I started doing that during my studies, for my own tracks and every now and then at parties as a VJ. From 2005 to 2015 I was often on the road with XABEC and learned and got to know immensely. The absolute highlight from this time is still for me the gig at the Maschinenfest 2008 in Krefeld, from which a DVD was created afterwards. I am very grateful for this time. It resulted in many contacts, and when I was up for a festival, I asked friends: 'hey, can I make a video for you' and was in the middle of it instead of just being there. Give and take. There were also facade projections for multimedia festivals and a trailer for Tzolk'in.
Working with these techniques is no less complex than creative work with audio, unfortunately at least as time-consuming and was/is often put on the back of the line for cost reasons. I still enjoy producing videos because I like the aesthetics and the interplay. At the moment, however, I'm concentrating more on my own projects.
For "Black Hole" there are no promising ideas for live shows and clips yet due to time constraints.
A dream would be to play the album in planetariums on 3D audio systems. If it comes so far I am then quite fast with the thing.
Q: You already mentioned Cosmic Noise Crew which is another project you're involved with. I think it sounds even more Ambient-driven than The_Empath but what makes the difference to you between all of your projects? And do you've specific references and/of 'masters' when it comes to this kind of music?
Mike: The difference between the projects is primarily the subject matter and secondarily the intensity of the emotions that are processed with it. For a long time I resisted opening up different pigeonholes and sorting my emotions into them. However, it became increasingly difficult for me to bring all this into one mould, and for the listeners it was certainly not easy to classify it. Mixing my musical preferences for aesthetic soothing sounds alternately with brute beats and noises, I was fortunately able to get away from this by splitting up into different projects. Cosmic Noise Crew clearly has Ambient, healing musical structures and sounds as its goal, where inspiration and the musical socialization of several players come into play and complement each other. With Trackologists it's more forward, also sometimes straight in your face -full speed ahead. Here we act out, with a view to content and sound aesthetics, but without destroying. We put in the texts many clues between the lines for the people who are looking for it. To hold up the mirror, but not only to others, but starting with ourselves.
The_Empath I need as an island for myself, but on which everyone is welcome at any time, who is able to enrich this project with positive energy.
References and masters, a tricky question to finish. I can only answer for myself. I would say to be a reference deserves everything that combines the attributes honest, technically brilliant, creative, surprising, expanding the horizon, rousing and emotional. The list is endless, and it never stops growing. My master is the universe.
Since you're here …
… we have a small favour to ask. More people are reading Side-Line Magazine than ever but advertising revenues across the media are falling fast. Unlike many news organisations, we haven't put up a paywall – we want to keep our journalism as open as we can - and we refuse to add annoying advertising. So you can see why we need to ask for your help.
Side-Line's independent journalism takes a lot of time, money and hard work to produce. But we do it because we want to push the artists we like and who are equally fighting to survive.
If everyone who reads our reporting, who likes it, helps fund it, our future would be much more secure. For as little as 5 US$, you can support Side-Line Magazine – and it only takes a minute. Thank you.
The donations are safely powered by Paypal.