'Click Interview' with Mesh: 'The idea of using the latest synth preset or some popular soft synth has never really appealed to us'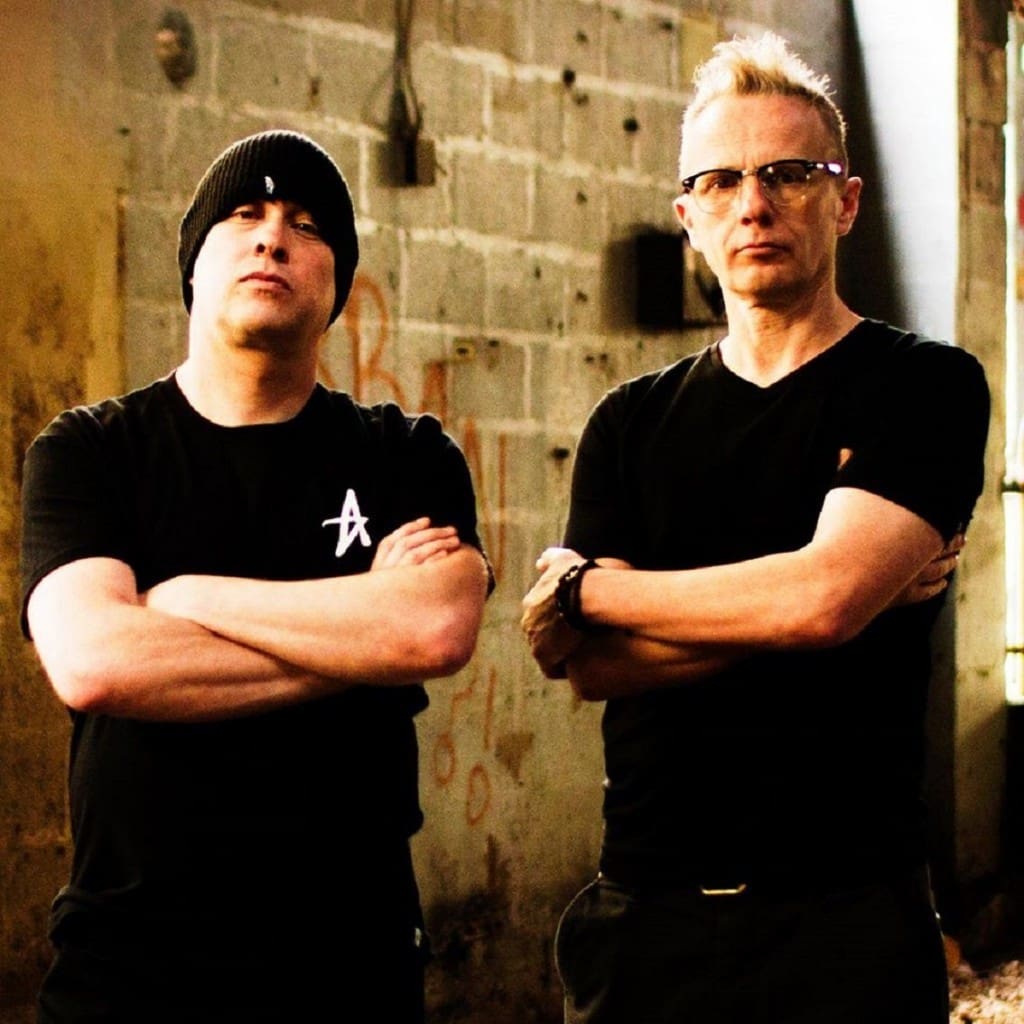 1996: a 'new' band from Bristol (UK) took the electro-pop community by surprise! Twenty years have passed since Mesh's official debut album "In this Place Forever" has been released on the Swedish label Memento Materia, but each new album became a new success leading Mark Hockings and Richard Silverthorn to the top. They actually unleashed their 8th opus "Looking Skyward" released on Dependent Records, which already reveals multiple potential hits. I got in touch with Richard Silverthorn right before their new tour.
The new 13-track Mesh album "Looking skyward" will be released in no less than 4 formats including a normal CD (available right here), a 2LP set (available right here) and a 2CD set (available right here) which comes with a hardcover book. But next to that there is also a super deluxe boxset (available right here) including the 2CD hardcover book, the gatefold 2LP, and an additional LP with bonus tracks of the bonus CD and a numbered certificate.
(by Inferno Sound Diaries)
Q: I noticed that your new album "Looking Skyward" has been released exactly 20 years after your debut album "In this Place Forever". How would you compare both releases and how do you see the evolution of Mesh all over the years?
Richard: I think back then we were trying to find our own sound. As with any band you draw on influences and bands that make you want to pick up an instrument in the first place. Maybe some of the song structures were a little awkward and not what we would do now. We certainly have many more years experience now and I think that shows in our recent material. Another huge difference is the technology. The things we were trying to achieve back then are so much easier these days with the evolution of software and sequencing platforms.
Having say all that I still look back at those early albums with fondness. It was a massive sense of achievement for us as we done everything for ourselves writing, recording, production and even had a hand in the mastering. Back then that was a very rare thing indeed. Ultimately it was good ground work for who we are today.
Q: One of the main evolution and I dare to say 'innovation' on the new work clearly appears to be its experimental approach in sound creation. How did you get this idea and how did you proceed?
Richard: We have always been really interested in sound and sound sculpture. The idea of using the latest synth preset or some popular soft synth has never really appealed to us. We have always started from the ground up or found something similar and reworked it. I for one was drawn to this kind of music because of the sounds. Creating a unique sound or sampling something from everyday life and making it into music is really cool.
On our early albums we experimented with sampling and just recording random things and making them into percussive loops or phrases. Although the technology was in its infancy the raw and ragged sounds really gave the music its atmosphere and tension. With "Looking Skyward" our latest album we made a conscious effort to go back to this method but using the latest hardware and software sampling systems.
Q: You just mentioned you're not fond of easy preset sounds while I get the impression you're more into a 'quest' to find 'THE' sound, which might symbolizing a kind of 'holy grail' for a musician. What have been your experiences about it?
Richard: Sometimes the sounds you create dictate the way you proceed and the path it takes. Creating drum loops and different timings give me a good base to start writing. I'm not sure there is a 'Holy Grail' of sound, each has their own place and becomes an ingredient of the final product. When we were in Germany at the final stages of making this album myself and Olaf Wollschlager started replacing some of the sounds with things we created using his modular system. It was very time consuming and we found ourselves just playing around for hours but the results were amazing.
One sound on "The Traps We Made" in the second verse, a kind of distant drone took ages to make. It was just replacing a guitar line that I had played but it worked so well. It may sound a funny thing to say but it is my favourite sound on the album. Just knowing the work that went into it and the fact it is completely unique is what gives it its charm.
Q: What else can you say about sounds you've created for "Looking Skyward" that make you really proud of?
Richard: A lot of the sounds are very subtle and not easily spotted on first listen but if you put headphones on they are all there. Many layers of all different things. We used a lot of percussive noises under regular drum sounds which gives them that organic and human feel. I get a lot of comments about my drum programming. People always think they are real drums and real drummer but everything is sampled and programmed. Just adding small imperfections to the sounds give that impression.
What we tried to do is make all these sounds not obvious. I don't want to hear just the noise we created but to use it in a clever and musical way. Layering things up with conventional sounds gives it loads of character and the listener thinks 'is that a guitar, or keyboard or a harp?' etc
Certainly some of the percussive loops I feel quite proud of. One day I went out and recorded myself hitting a car park barrier with a plastic tube. It was a really interesting sound and as the car park was completely empty at the time the ambience and natural reverb was really good. This sound can be heard as part of the drums in "Once Surrounded" Again its only in there as a under pinning loop but it really adds something to the overall sound.
Q: "Looking Skyward" is an interesting title that might awake our imagination, but what's the album all about?
Richard: It came from a lyric in "The Fixer". It just jumped out at us after listening to it. I think the album is very dark in places and the mood is quite somber at times. "Looking Skyward" was the element of hope. The light at the end of the tunnel. It summed up that although everything seems to be lost there is still hope.
Q: The album has been again produced by Olaf Wollschläger. What's his real impact on the final result and what makes this producer that unique?
Richard: This is the third album that we have worked with Olaf. Over those years we have etched out a really cool working relationship. He totally understand what we are trying to achieve. What we particularly like about his production is his transparency. What I mean by that is that he takes our songs and spends a ridiculous amount of time fine tuning and making small but significant changes but doesn't change the overall sound and feel that we had. The idea of a producer that changes your particular sound really doesn't appeal to us. He is a perfectionist in the same way we are.
Q: You guys are already working together for years and years now. What makes the chemistry between both of you?
Richard: We have many common interests not just the music. We like the same things Motocross, Mountain Biking, Cars and music technology. We have kind of grown up together. We have both had children at about the same time and have very similar stories to tell especially parental ones. We know how we work and I think we both respect each other's role in the band.
Q: You'll soon start a new tour. Is it still a similar kind of feeling and excitement you probably experienced during your first tours?
Richard: Yes but I think more recent tours we have more of a sense of apprehension and nervous excitement. Every time we try and do something new which usually involves some new technology or visual trickery. This all adds to the stress of knowing whether it's going to work ok or all go horribly wrong. We think that audiences expect something new and different and you have to deliver. In the early days of gigs things were a lot easier. Just a few in house lights and that was it. Now it's videos, led panels and back projections etc….all good fun.
Q: I can imagine you were really excited and probably a bit nervous during the "Gothic Meets Classic"-live performance that took place in October 2015. What did you keep in mind from this particular experience?
Richard: As a musician it was the ultimate experience. Never did we think when we started we would be stood in a huge concert hall with a full orchestra behind us. It was a truly magical experience. The arrangements and the huge sound created by an orchestra was just spectacular.
Doing a show like that was so different to any other show we had done before. Walking out to a packed concert hall with several thousand faces looking at you is a quite an experience. It felt so intimate. The silence just before the first note was played was surreal.
An experience I don't think we will forget in a hurry.
Q: 'Looking forward', what do you see for Mesh?
Richard: We never really look to far ahead. We take each day as it comes and we just see what happens next. We both still love making music and as long as that is still there and an audience and fan base to support it I think we will carry on.
Courtesy by Inferno Sound Diaries
Since you're here …
… we have a small favour to ask. More people are reading Side-Line Magazine than ever but advertising revenues across the media are falling fast. Unlike many news organisations, we haven't put up a paywall – we want to keep our journalism as open as we can - and we refuse to add annoying advertising. So you can see why we need to ask for your help.
Side-Line's independent journalism takes a lot of time, money and hard work to produce. But we do it because we want to push the artists we like and who are equally fighting to survive.
If everyone who reads our reporting, who likes it, helps fund it, our future would be much more secure. For as little as 5 US$, you can support Side-Line Magazine – and it only takes a minute. Thank you.
The donations are safely powered by Paypal.