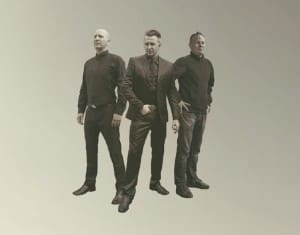 It all started somewhere in the 90s. Torben Schmidt was running the fan club of Leæther Strip and decided to compose a song on his own. It was meant as a one-shot project featuring Claus Larsen on vocals. The song entitled "Subjection" was originally released at one of the famous Zoth Ommog compilations. Because of this successful song, Lights Of Euphoria went on and released numerous albums and EP's. The band was later on joined by Jimmy Machon from Godheads. A lot of guest singers like Ronan Harris (VNV Nation), Stephan Groth (Apoptygma Berzerk), Vasi Vallis (Frozen Plasma/Reaper) Johan van Roy (Suicide Commando), Kay Härtle (Supreme Court) contributed to some songs. The band finally went through a long break and is actually fighting back with their first full length in twelve years! The duo got joined by Thomas Gaarn and became a real band. The new opus "Traumatized" released on Infacted Recordings is for sure an astonishing return of this band. I got in touch with Jimmy Machon.
(by Inferno Sound Diaries)
Q: Twelve years have passed since your previous full length album "Gegen Den Strom". What have you been doing in the meantime and how did you finally come to reactivate Lights Of Euphoria?
Jimmy: We both got a daughter, Torben has been busy with running Infacted Recordings and playing with Suicide Commando. So a lot of work and private matters.
Q: What kind of album is "Traumatized" all about and what have been your main sources of inspiration?
Jimmy: I Jimmy Machon write most of the lyrics usually, and on this album I wrote them all. I write from experience or about subjects that I somehow have an opinion about. There is everything from lyrics about sex, fetishes, anti-religious texts, about love, about hate, about loosing or about being isolated somehow. We are all 'Traumatized' somehow and so is our earth.
Q: I experienced "Traumatized" as your 'hardest' work today, but how do you analyze the evolution in sound from the early work till the new work?
Jimmy: Lights Of Euphoria have always been this strange project, where a lot of guest musicians, and guest vocalists, have been involved. So we have made pretty much everything from harsh-noise, to pretty synth-pop. This is probably the first real album where there is a red thread connecting all the songs musically or lyrically.
Q: What has been the input of each member on "Traumatized" and tell us a bit more about the production process?
Jimmy: Well Torben has been very busy, so I, and our new full-blown member Thomas Gaarn, have made most of the album. I wrote the melodies and lyrics, and Thomas is a very skilled keyboard player and is very good adding interesting elements to the production or very good at coming up with great baselines or synth parts. I did the artwork as well.
Q: Lights On Euphoria are now back on track, but what brings the future?
Jimmy: More albums, more concerts and more songs. We have already started writing new material, and hopefully it wont take another 12 years to finish another studioalbum.
Courtesy by Inferno Sound Diaries