'Click Interview' with Jacky Meurisse: 'Today You Only Need A Pc To Become An 'Artist'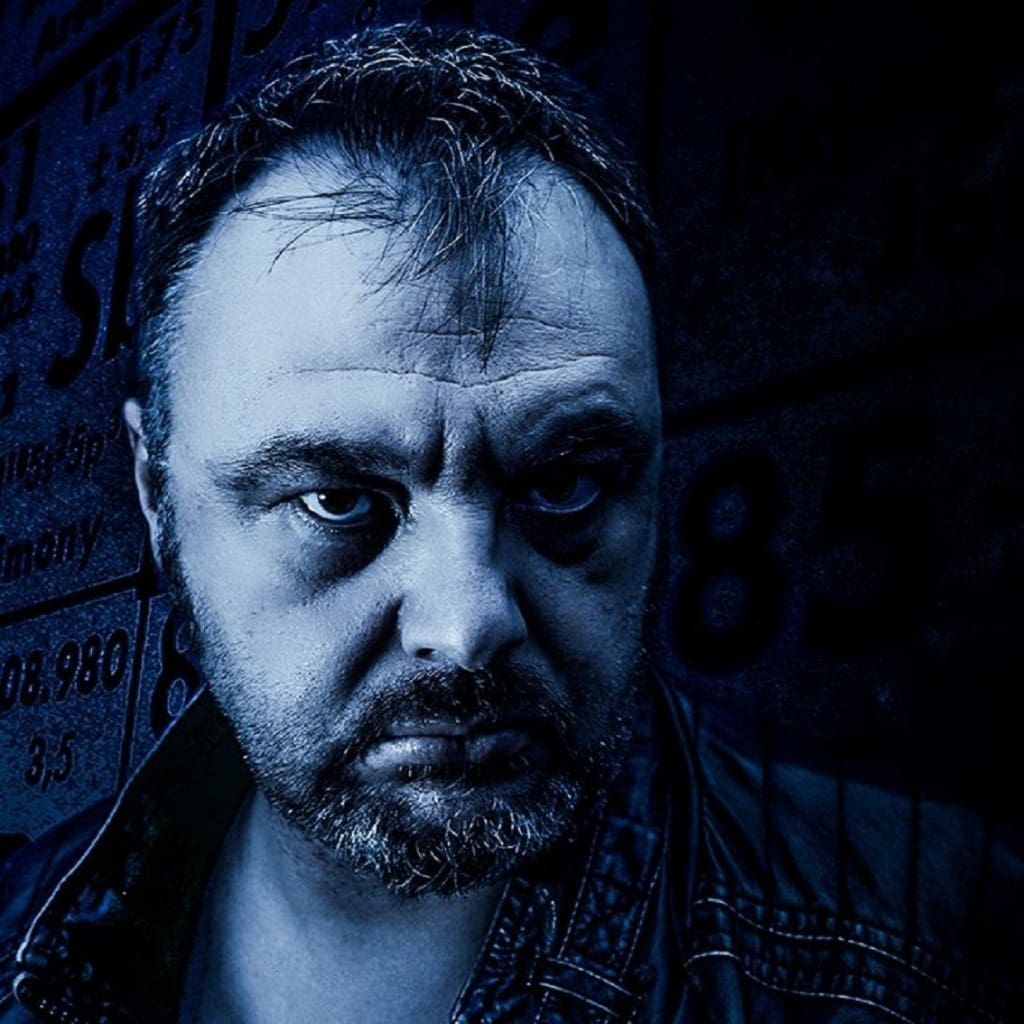 Jacky Meurisse belongs to the pioneers of EBM, but he first of all is a visionary electro-artist who later on got involved in some of the biggest new-beat hits. It's a passionate musician and producer who more than 30 years after the early Signal Aout 42 hits remains a prolific and talented artist. He last year got involved in a new project called Grand ((O)) Signal while he also released an album as Jacky Meurisse Project.
(by Inferno Sound Diaries)
Q: After years of involvement and multiple music projects how did you finally come to release the solo-album "Crystal Blackout" and what means this album to you?
Jacky: Why did I compose "Crystal Blackout"? It all happened quite naturally. I'm constantly busy composing music, which is something natural for me. I can't say how much songs I've composed with all of my projects, but you also have to know I've plenty of unachieved songs in my PC. These songs haven't been achieved because they don't always fit with the expectations of my audience. I however think that most of these 'music rushes' have a real potential.
In 2015 I together with Tcheleskov Ivanovitch (GrandChaos and live member of SA42) started a new project called Grand((O))Signal, which was meant as a playful project to hear how our partnership would sound. We noticed some real good reactions, which gave me a boost to launch 'Jacky Meurisse Project'.
To be honest with you, this "Crystal Blackout"-project is for me a kind of entertainment and an opportunity to propose a different style than what people are used to hear from SA42. So it becomes a challenge to offer something different instead of EBM.
Q: That's probably why I got the impression it is a fusion between all kind of influences you have experienced with during your career; EBM, techno, new-beat… right?
Jacky: You get it! I'm composing 'underground' music for more than 30 years now and I was rather successful in multiple genres (new-wave, new-beat, techno, trance, rave, EBM…) while I always hold on a direction. I would even dare to say with some humility I've been one of the pioneers from new-beat and EBM. All over the years I accumulated a lot of sounds and ways of working. It has for sure created my musical identity, like I've been branded by these sounds.
My main project remains of course SA42, for which my fans have some expectations. I can't imagine using similar sounds for SA42 although I've a huge database full of sounds. So Jacky Meurisse Project for me is a way to experiment with these old sounds without asking myself if people will like it or not. So in the end "Crystal Blackout" is a melting pot of all these sounds and music genres that saw the daylight during the past 30 years.
To get it short "Crystal Blackout" is a bit of a retrospective from the last 3 decades in, which I've been musical wise involved to.
Q: What have been your favorite gear to write "Crystal Blackout" and do you have favorite songs on the album?
Jacky: As I already mentioned I've been inspired by all these old sounds. I also searched in my memory (lol) and took some sounds I for example used during the 90s for the project Le Park. I also tried to use sounds in the line of "Le Dormeur" from Pleasure Games.
It's hard to say which elements I prefer and impossible to give you favorite songs, which according to me is the same as asking you who's your favorite child. It sometimes depends from the inspiration so a few songs were finished pretty fast, but all the songs have the same value to me.
It's also funny to read reviews about the album and realizing people don't have the same favorite songs, which I think is rather positive.
Q: The album was already released one year ago now on New Fabrikk andentitled "Crystal". So how did you come to release it again on the Spanish label i-Traxx Recordings and what have been the reactions since the original release?
Jacky: You can't really consider New Fabrikk as a label properly speaking. Tchéleskov and I decided to set up this 'platform' to release the "Aktivation"-album of Grand((O))Signal. We decided to release the album as a 'dropcard' format. New Fabrikk is more a kind of 'rave' from 2 producers instead of a label. The idea was to create a kind of 'trademark' for a new Belgian music stream we set up by our own. Future will tell if it will lead us to any achievement.
So it happened quite naturally and "Crystal" got originally released as a 'dropcard' on New Fabrikk. This edition was limited to 200 copies and was a kind of elaborated demo of the complete tracklist. Once the 'dropcards' were sold-out I next finalized and remixed all of the songs to get it released on a small label. I know Ethan Fawkes who told me to get in touch with the Spanish label i-Traxx he's working with. I'd a good feeling with the label and they gave me all an artist needs to work with.
Q: Together with Tcheleskov Ivanovitch (Grandchaos) you both set up Grand((Ø))Signal and recently released on CD format the album "Aktivation", which was previously digitally released on New Fabrikk as well. What does this project stands for and how do you look back at the album?
Jacky: As I previously mentioned, Tchéleskov joined me on stage for the SA42 live shows and we progressively got more connected with each other. There's a real complicity as we're sharing the same music culture and sources of inspiration. Tchéleskov asked me to set up a common project and as I sometimes feel the need of a new challenge I finally thought by myself 'why not'.
We're quite complementary; Tchéleskov tries to brake me there where I'm going too far while I give him a boost when I think he's not doing enough (lol). But it was an interesting, funny and conclusive project.
Q: How do you look back at the new-beat period and the sound properly speaking, which today is easily linked with other genres like EBM?
Jacky: To be honest with you and I know it might sound a bit weird, I'm not really interested in the contemporary music scene. I don't know anything about new releases, I'm not going out that often and I don't listen to the radio because I'm living in my own little world. So I don't really have an opinion about the contemporary scene and especially because it all looks like everybody is making music today and too much music is killing the music.
Where's the time you'd to invest a lot of money to release an album. Only a few ones got motivated and took the risk to release a vinyl. But today you only need a PC to become an 'artist' and releasing copies… In the end only the best ones will get some recognition, but they're like drowning in the mass so it's really difficult to become renowned.
Q: What might we expect from Jacky Meurisse in 2017 and are there plans to write a new Signal Aout 42 album?
Jacky: Exactly, right after having been involved in different parallel projects, which was fun, I started again writing music for SA42. The magic operated and I got some new inspiration so quite fast I wrote 8 songs in 3 weeks. I need 2 or 3 more songs and next I'll have to write the lyrics, which for me is the most difficult part of the work. But I can tell you I'm really excited because what I've achieved so far sounds like real, real great SA42 stuff.
I hope to finalize the 7th full length of SA42 for the end of 2017. It will be a challenge because I'll be very busy during 2017 working on a very personal project, which will take me a lot of time and energy.
Thanks for your interest in my work and I wish you all an enjoyable listening.
Courtesy by Inferno Sound Diaries
Since you're here …
… we have a small favour to ask. More people are reading Side-Line Magazine than ever but advertising revenues across the media are falling fast. Unlike many news organisations, we haven't put up a paywall – we want to keep our journalism as open as we can - and we refuse to add annoying advertising. So you can see why we need to ask for your help.
Side-Line's independent journalism takes a lot of time, money and hard work to produce. But we do it because we want to push the artists we like and who are equally fighting to survive.
If everyone who reads our reporting, who likes it, helps fund it, our future would be much more secure. For as little as 5 US$, you can support Side-Line Magazine – and it only takes a minute. Thank you.
The donations are safely powered by Paypal.