'Click Interview' with Gimme Shelter: ' I Do Not Know What Is So Funny About Being Named After A Title Of The Rolling Stones'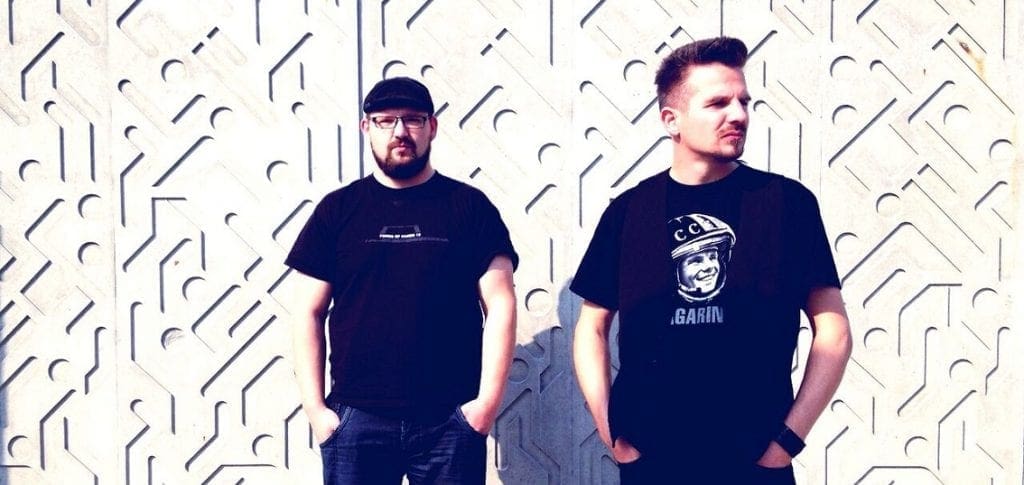 German duo Robert Grolms – Niko Kötzsch are active under the Gimme Shelter moniker for a couple of years now. They signed to Space Race Records and have released 2 albums so far. The band doesn't label their sound as any particular genre, but their audience will be mainly find among the lovers of electro-pop and EBM. A few months ago now they released the album "Kosmodrom" revealing great writing skills and a mature production process. This interview is a look back at this work.
(by Inferno Sound Diaries)
Q: Do you remember how you get contaminated by the electronic music virus and how did you come to set up Gimme Shelter?
Robert: Well, in 1990 I was ten years old and I became a great fan of Depeche Mode. Their music influenced me very much and I founded my first band at the age of twelve to emulate them. Afterwards, I was active in several bands and founded Gimme Shelter in 2008. A short time later, Niko joined in and since then we have released two albums and played some concerts. But not only electronic music has shaped me. For this reason, there is no electronic virus for me, but we make the music because we want to clean up our inner life. The fact that the music is very electronic is due to the fact that we are not so well trained on classical instruments.
Niko: I remember the first CD I bought was "Moosehair Underwair" from Cat Rapes Dog. I next discovered artists like FrontLine Assembly, Front 242, And One and many many more (yes of course a little bit Depeche Mode but I wasn't a huge fan ). I was 17 years old when I started going out in German Clubs to become a DJ. Ten years later I stopped DJ-ing. I experimented with some synthesizers and music programs. Robert came to me and asked me if I could help him to play live synths for the first Gimme Shelter live gig. I said to first have a listen at his stuff, but the problem was it sounded like a demo tape. I finally composed a demo for him and he liked it. That was the beginning of Gimme Shelter.
Q: For numerous people Gimme Shelter will for sure evoke one of the most famous Rolling Stones songs in history… or the cover version by The Sisters Of Mercy. What inspired you to choose for this band name and what can you say about potential sources of inspiration?
Robert: Well, the band name fits to the content of our music. I do not know what is so funny about being named after a title of the Rolling Stones. Their music is still very good and has shaped the music world enormously. We are included. We of course are also inspired by the life we live and the experiences we get. Love, relationships, desire, loss. All this flows into the music of Gimme Shelter. Musically, we are both very open-minded. We are inspired by a lot of things, but we do not jeopardize anybody, but create our own sound -regardless of whether we are successful or not.
Q: I experience your music as a mix between electro-pop elements and harder EBM influences. What do both genres evoke to you and how would you analyze your own sound?
Robert: This is hard to say. There probably is no other band that sounds like us. This is simply because we do not want to sound like other bands. We consciously allow all possible influences, from Depeche Mode to Johnny Cash. In general, a musician sees his own music quite differently than the listener conceives. We find -like every other band, that we naturally fit into no drawer. On the contrary, we think that we sound extremely independent and can only make comparisons with individual songs. The aforementioned influences play naturally also in it.
Furthermore, we have certainly also shaped Front 242, And One, Nitzer Ebb and above Kraftwerk. But that is only unconscious in us and we do not sit down and want to create a certain music style. We just do our thing. And what is going on here can be described as a whole. But generally, these whole subgenres do not matter.
Niko: I´ve many influences. I like artists like Royskopp or Deadmau5, but I like the sound of the 80s, too. I do not care how a song sounds. If I think that the sound fits the song then we go on working on it until we are both satisfied.
Q: You this year released your second full length album "Kosmodrom". What is the album all about and what kind of work (sound-wise) did you try to accomplish?
Robert: Basically the answer is quite simple. The album is of course love. It is about, which forms of love exist and how they can develop. The title "Kosmodrom" is a good metaphor for this. It stands for the beginning of something great, just like at the beginning of a love. After the start, everything can develop well or badly. But the hope for something beautiful drives human beings. We also found that the cosmonaut Yuri Gagarin, who was the first human being to cross space, deserved to get an appreciation from us. In the Western world, his name often falls into oblivion; but he showed courage and opened a new door to humanity. But we also use his figure as a metaphor for the album "Kosmodrom". It is only at first sight around the space on our current album. But the concrete content must be accessible to every listener himself. One's own fantasy when listening to music is the great thing that music can do.
Niko: "Kosmodrom" is a bridge between the analog and digital world. We've worked a lot with analog synthesizers such as KORG MS20, NORD Modular, Yamaha Cs1x and many other synths. Each synth has its own flair and I like them all. Each song takes a lot of time to achieve. Robert writes most of the melodies while. I'm more into the rhythm thing. When Robert comes up with a ballad I make a dance pop song out of it because I think it fits. You also have to try something different and not always repeatinbg yourself. That's why we're not letting anyone talk about how we should make our sound. I learned most of what I did from my friend Daniel Myer. He showed me programs and VST's how they work. I thank him again and again that I can do what he showed me. That is why we decided to master the album by Daniel. He knows exactly what he's doing and is worth every penny. I can only say to every musician to give away the mastering work. Do not be concerned with so many trifles. I had to learn that too. Therefore "Warnemünde" has lasted nearly 5 years (hahaha).
Q: Do you see main changes or an important evolution in the writing process and production from your debut album "Warnemünde" towards "Kosmodrom"?
Robert: Of course. "Warnemünde" has emerged in a much longer period of time. This is why the album is less self-contained -unlike "Kosmodrom". But many bands like that. You need a few albums to find yourself as a band. Therefore, we would like to thank our fans, who have followed us through the early days and gave us the chance to further develop our music and bring it to a higher level. Of course, the process is not over yet. But "Kosmodrom" was already a real development in comparison to "Warnemünde". The writing process has not really changed because we have a good view upon the tasks of each other. I usually write the songs and lyrics and Niko gives these songs a better and final touch. We keep on working until it sounds good for both of us. This can sometimes take a long time and a song can go through several versions until the final product is finished. But that is precisely the exciting thing about making music. It is very democratic, so it can be frustrating if your own idea is not implemented, because the other is not at all satisfied. But that's exactly what a band does. In the end there is a work that took blood, sweat and tears.
Q: What means music generally speaking and Gimme Shelter more specifically to you and are there some plans/dreams you actually want to accomplish?
Robert: Music is a big part of our lives. We are fortunate that we have found a way to put our soul into music expression. This is a good valve. We also have a lot of fun and love to give concerts and get in touch with our fans. Gimme Shelter helps us giving our feelings a bit of air, and we can preserve beautiful and few situations with songs. At the moment, we are back in the studio and are working on new ideas and songs, because we are still not finished with Gimme Shelter, but we still have a lot to say and want to develop further. We hope that this year we can release some new songs on an EP and maybe release another album next year. But this also takes a lot of time and we are just at the beginning of another album. There are also new concerts planned. Next year Hannover and Hamburg will be on the agenda.
Niko: At my side I would like people understand what we want to express with our music. It always depends from the emotional state you're going through when you're listening to our music. And every time one understands and feels the songs different. Of course the goal is to reach more and more people with it. But I prefer 100 real fans than 2000 'likes' at Facebook. We are available for everyone and are available for all questions to Gimme Shelter.
Courtesy by Inferno Sound Diaries
Since you're here …
… we have a small favour to ask. More people are reading Side-Line Magazine than ever but advertising revenues across the media are falling fast. Unlike many news organisations, we haven't put up a paywall – we want to keep our journalism as open as we can - and we refuse to add annoying advertising. So you can see why we need to ask for your help.
Side-Line's independent journalism takes a lot of time, money and hard work to produce. But we do it because we want to push the artists we like and who are equally fighting to survive.
If everyone who reads our reporting, who likes it, helps fund it, our future would be much more secure. For as little as 5 US$, you can support Side-Line Magazine – and it only takes a minute. Thank you.
The donations are safely powered by Paypal.