Click Interview with Girls Under Glass: 'We Felt That It Was Just The Right Time To Reanimate Girls Under Glass'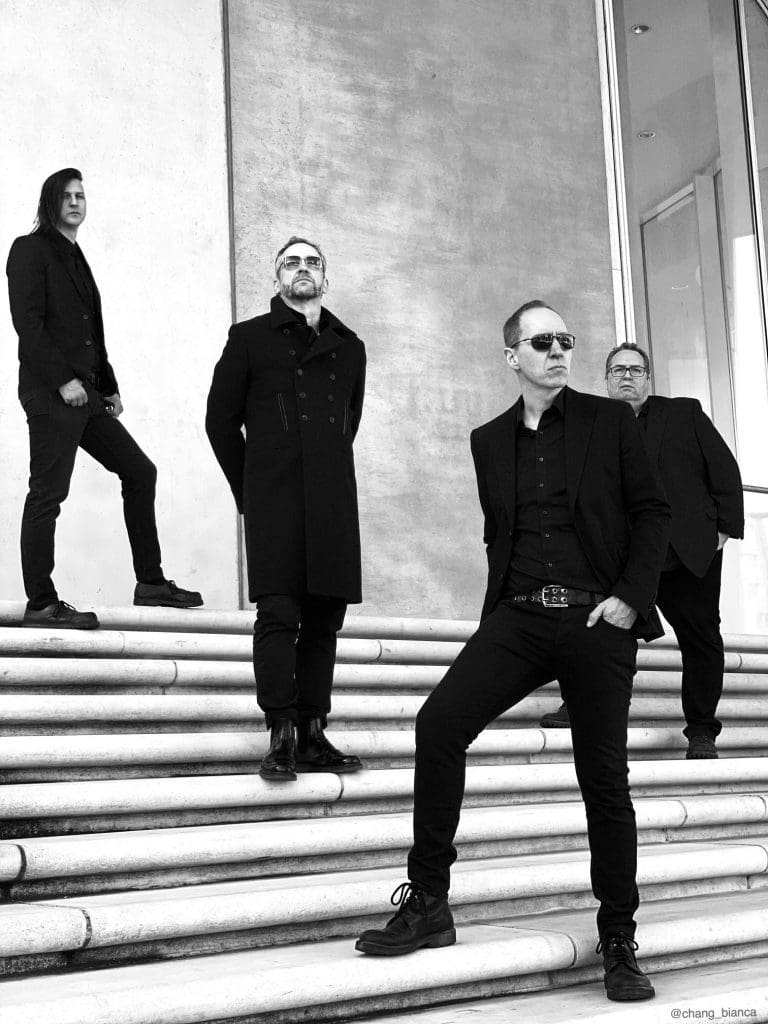 Originally set up in 1986 by Thomas Lücke, Hauke Harms, and Volker Zacharias, the German band Girls Under Glass became a renowned formation in the 90s. The band went through multiple line-up changes. The most important ones were Axel Ermes who joined in 1989 while Thomas Lücke left a bit later. Hauke Harms left in 2017. Most albums were released in the 90s while their last studio album "Zyklus" got released in 2005. The band however moved on playing live shows but took us by surprise releasing a new album "Backdraft" this year. Volker Zacharias (vocals, guitar), Axel Ermes (machines) and Falko Grau (bass) have been joined again by the band's original singer Thomas Lücke. Released on Dependent Records "Backdraft" is a great piece of music mixing different influences together; from Dark-Wave to Gothic to Post-Punk to Electro the album creates an imaginary sonic bridge between different genres. I asked a few questions about this 'resurrection' to Volker Zacharias and Axel Ermes.
(Picture credits by Chang_Bianca / Interview courtesy by Inferno Sound Diaries)
Q: "Backdraft" is your first new studio-album in nearly twenty years. It's not exactly a come-back as the band went on playing live from time to time but is it more a kind of new beginning, kind of Girls Under Glass V.02? What have been the triggers to start writing new songs again and how did this 'reunion' finally happened?
Volker: I would not call it Girls Under Glass V.02 because we do not re-define the band. In some way "Backdraft" even is a typical and classical GUG album which sounds familiar straight away. But the influences are kind of different this time as we go far back in time and were mainly inspired by 80s New-Wave, Post-Punk and some underground Neue Deutsche Welle stuff. Yet there are also songs with a typical Electro-Gothic flavor.
Axel and I were in the process of searching for unreleased and unfinished ideas and songs for a big box set to celebrate our 35th anniversary. By going through these songs we haven't touched for many years we recognized how good some of them are. Same time I had many new ideas in my head so just for fun we started to write new songs as well, still with the aim to add a few of these songs to the box set. Due to this creative flow and the outcome and results we suddenly recognize that we should use this power to finalize a new album and look forward instead of looking back and care about the old stuff. We felt that it was just the right time to reanimate Girls Under Glass. That was the trigger.
Q: Can you give us more insight to the composition process of "Backdraft" and what have been the different stages you'd to go through to achieve this work?
Volker: As I mentioned the idea of doing new songs came out of the blue. We did not plan to do a new album and our label (Dependent) were as much surprised as everybody else in the band or related to the band. So beside going through our archives and finalizing some older ideas we also wrote new songs, added vocals and at some point we had to decide how to bring everything to shape because the ideas were and sounded very very different.
So the second step was to give the ideas a kind of flavor that harmonize with each other. When you go through the songs you can easily hear what I mean cause the styles are kind of different and do not seem to belong together. There are Gothic-Rock ballads beside Cold-Wave influenced songs after Gothic-Dancefloor smashers. But we needed to find an element that holds everything together with the result of having an album instead of a bunch of songs.
Q: A few clips have been also released, one featuring the song together with Mortiis. How important are clips today and what did you try to express by these clips? And how did the collaboration together with Mortiis happened?
Volker: In my personal opinion the promotion and marketing world changed a lot during our last album "Zyklus". There are hardly any print magazines left, so digital places such as blogs, e-magazines but social media presence became more and more important. But I also believe that most people don't want to read one interview after the other to get an idea about a band, their new record or their music. Why they should READ about music when you can actually listen to it?? So doing videoclips is the best way to present your music and also define a visual frame how you want to present it. You want to tell a story? You want to underline a certain atmosphere? Anything is possible when you combine music and video that's why I believe that this is the strongest tool you have to promote your music these days.
Many years ago Axel and I were experimenting around with Electro and Industrial music while I was listening to Mortiis music a lot at that time. In my opinion he is one of the most interesting characters in our scene so I asked him if he wants to contribute his vocals to our music. Because he liked what we did he sent us his ideas. Out of this "Tainted" was the strongest one. So later we finalized this song with the purpose to end up with a Girls Under Glass-song. We tried out various styles, recorded many different guitars and it took us a lot of time to end up with a final result that was perfect for everybody involved. We were in contact with Mortiis through this whole process so he also gave a lot of feedback during the production period. It's not a band's song plus some external singer but "Tainted" is the result of a real 'collaboration'.
Q: I noticed the feedback from press and fans to your new album is amazing. How important is this feedback and especially from the press to 'experienced' artists like you?
Volker:In some way the fan feedback is most important. If they are disappointed it´s practically unimportant what the media says. Luckily with "Backdraft" we received incredible good feedback from both sides, from the media and from the fans. We are super lucky about it and it means a lot to us – not only from the commercial point of view but it´s simply great and important for us when our work is honored and people tell us that they like what we do. This gives us a lot of power, confidence and we feel supported. That's all we can ask for these days, cause realistically speaking Girls Under Glass never was and never will be commercially successful in a way that we could live from the music. So what's left? The love we receive back for what we are giving.
Q: All over the years you've been all involved with different (side)-projects but what Means GIRLS UNDER GLASS to you? What does it stand for anno 2023 and how much of the early stuff and spirit do you still recognize in "Backdraft"?
Axel: Well, Girls Under Glass is the main band which still exists after almost 40 years. I would call it the 'Mothership'. Other projects and side-projects are kind of 'Space Shuttles' into other worlds and genres beside our own universe. Of course whatever we do we always put our full energy into it. This is the reason why most of the side-projects also go on for several years and never really fade out. But it is always good to return to the Mothership.
In "Backdraft" I can see a lot of the original 80s spirit of Girls Under Glass. It starts with the sounds. I am still using some of the old synthesizers or at least my own sampled sounds from that time. Still have an AKAI S1100 running, and a KORG MS 20 which I bought back in 1984. Then the production is also very 'live' in the old tradition of 16 track tape machines even when I use the computer now. I very rarely quantize the recordings which leads to a very human feeling.
In other projects people want to quantize the hell out of everything which sometimes makes it far too static. Regarding the production itself I must say that I am really happy about the technology we can use nowadays. When we started we had to fight for every delay and reverb and very often heard 'Sorry, that's not possible…'! Meanwhile everything is possible and "Backdraft" is probably our album with the most delay and reverb tracks we ever made. I love that!
Q: Did you handle specific criteria and/or references when writing & producing this album? And what has been the input and impact of Chris Harms who mixed the album? And how did it feel working back again with Tom Lücke next to Volker Zacharias?
Axel: The album is a result of many hours of looking through our archives to find rare material for our special box "35 years of GUG". We found a lot and many songs and pieces will be in that box which will probably be called "40 years of GUG" box then but also found some ideas and recordings of songs we never finished. We took some of those tracks and re-recorded them, played around with new ideas and as if we were suddenly infected by a creative virus. It was like a sudden rebirth of GUG and we had a lot of fun with writing and recording new material.
Chris Harms was not involved in the studio production but did a really good job with mastering the whole album. Just the song "Endless Nights" had been mixed by Chris some years ago and we left it as it was because it sounded perfect to us.
Regarding Tom Lücke it was a very warm and cosy feeling. A bit like coming home again after a very long time. The recordings with Tom took a bit more time because the workflow was quite different from the usual workflow between Volker and me. But that was not a big problem. We had some help from Henning Thurow who had recorded the "Cube"-sessions and he did a brilliant job in mixing the EP in the "Artbook Special Edition".
Q: Concerts/festivals have been already announced so what do you expect and what might the audience expect? How do you transpose the songs from studio to the stage and does a live show need a special preparation?
Axel: We are really looking forward to the upcoming live shows. It looks like the next years will be a very eventful time for us. The audience should expect a versatile setlist with a mixture of powerful up-tempo songs and some slower melancholic ballads. The ideal setlist will be a mixture of old tracks with Tom on the microphone and a kind of "Best Of…" from the 90s till now with Volker singing.
The preparations were a bit challenging in the beginning because we haven't played most of the old songs in years. The sounds have survived but the MIDI Files were on floppy discs or even data tapes that are not easy to read nowadays. I had to reconstruct some drum programming and sequencing but thanks to Hauke (our former keyboardist) most of the data were still available.
Since Hauke left I am doing the live keys which meant a lot of rehearsals for me. The new songs on "Backdraft" also were a bit hard to perform because Volker played at least 3 or 4 parallel guitar tracks on the album but obviously cann't do this in a live show. So we replaced some guitars with distorted synthesizer sounds or grabbed the original guitars and fed the samplers with it.
As we change the setlist very often we always have to do some rehearsals before shows.
Since you're here …
… we have a small favour to ask. More people are reading Side-Line Magazine than ever but advertising revenues across the media are falling fast. Unlike many news organisations, we haven't put up a paywall – we want to keep our journalism as open as we can - and we refuse to add annoying advertising. So you can see why we need to ask for your help.
Side-Line's independent journalism takes a lot of time, money and hard work to produce. But we do it because we want to push the artists we like and who are equally fighting to survive.
If everyone who reads our reporting, who likes it, helps fund it, our future would be much more secure. For as little as 5 US$, you can support Side-Line Magazine – and it only takes a minute. Thank you.
The donations are safely powered by Paypal.