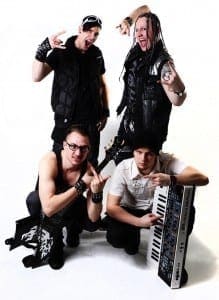 Extize has released their fifth album "Redneck Industrial" on Dark Tunes Music Group. The new work took me by surprise like never before. Extize clearly sounds like an antidote to traditional dark-electro and EBM. Those guys are totally crazy, but still talented musicians. I got in touch with crazy front man Cyb3rella.
(by Inferno Sound Diaries)
Q: "Redneck Industrial" definitely is one of the craziest albums I've heard in quite a long time now so let's start with a crazy question, which hallucinogens did you take to compose this new full length?
Cyb3rella: I'm pleased I could take you in our madness spiral! Hallucinogens? No, it's too hippie… I think we have to thank Jack Daniel's for this album…lol
Q: The funny side however always has been part of Extize and according to me even a kind of answer to the usual dark themes shared by EBM and dark-electro bands. Is it just the way you are or just a kind of modern punks?
Cyb3rella: Yes, that's the point, it's an answer to the 'true dark electro bands'. Too many electronic musicians in this scene are taking it too serious, they think they're doing high end electronic music… But let us be honest, the most of the dark-electro, industrial, future-pop and EBM music is simply cheap techno/trance with distortion and lyrics about death, religion and sex… And by the way, you are right too with my person, I'm a funny guy and I like to laugh! Come to an Extize show and you'll see that I don't hide behind a 'serious mask'.
Q: I really like the 'crazy' side of this album, but it still is an original composition and according to me your most accomplished and personal work to date! Who came up with this "Redneck"-idea and how did you transpose it into music?
Cyb3rella: Thank you for the flowers! The new album is my favorite Extize album too. About the creative process, why try to renew ourselves every year, so I'm always looking for something original to do. For "Redneck Industrial", I was at my tattoo studio to finish my arm tattoo, and during it, I always think about a lot of things. I was thinking about a new concept album, then I heard some old country-blues song played on the radio. I think it was some Johnny Cash. Then I realized that I never heard country-industrial before, so I wanted to give it a try. It was a challenge to mix both genres, but the result is pretty cool!
Q: The artwork also reflects the atypical and funny side of the band, which is also true for the cool clip of "Lawless Gringo" and the other cartoon-like lyrics videos. What can you tell us about this aspect of Extize?
Cyb3rella: Funny? No no no, it's totally serious! (haha). Well, it's important for me to entertain the people, and as I said, I love to laugh. That's why we made a video that catches the people and that is not boring to watch. About the artwork, same thing. We chose the cartoon style to make everybody clear that they have to listen to the album with a wink. Why? Because for instance, when we released the "Gothic Pussy-EP some people thought that it really was a serious song, because of the 'not so funny' artwork.
Q: How did you get the idea to release some totally hilarious phone hoaxes on the album and what have been the first reactions so far?
Cyb3rella: As I said, nowadays people get very fast bored. It's difficult for the people to listen to a 1 hour album without losing the concentration. So that's why I wanted to catch them again every 3 tracks. Everybody like pranks, and I've never heard such pranks on a music CD so I decided to test it! The reactions are very positive, we've got many feedbacks from fans who had a great time with these pranks. So I'm happy!
Q: What might your fans expect from the new Extize-album on stage and what brings the future?
Cyb3rella: We're actually on tour with Project Pitchfork to promote the new album, and of course, you'll get the 'Redneck feeling' on stage too. We've many specials on stage, from guns to cowbells, and you won't get bored after 3 songs. Here too, we've got the greatest feedbacks ever after our shows. About the future, I think the next album will be a second opus of 'Redneck-Industrial', but first, we're preparing a new video attack like our last video "Industrial Kombat"… It will be a big surprise for the scene… lol
Courtesy by Inferno Sound Diaries