'Click Interview' with Collection D'arnell-Andrea: 'The Past Really Feeds My Present, And As My Present Will Soon Belong To The Past …'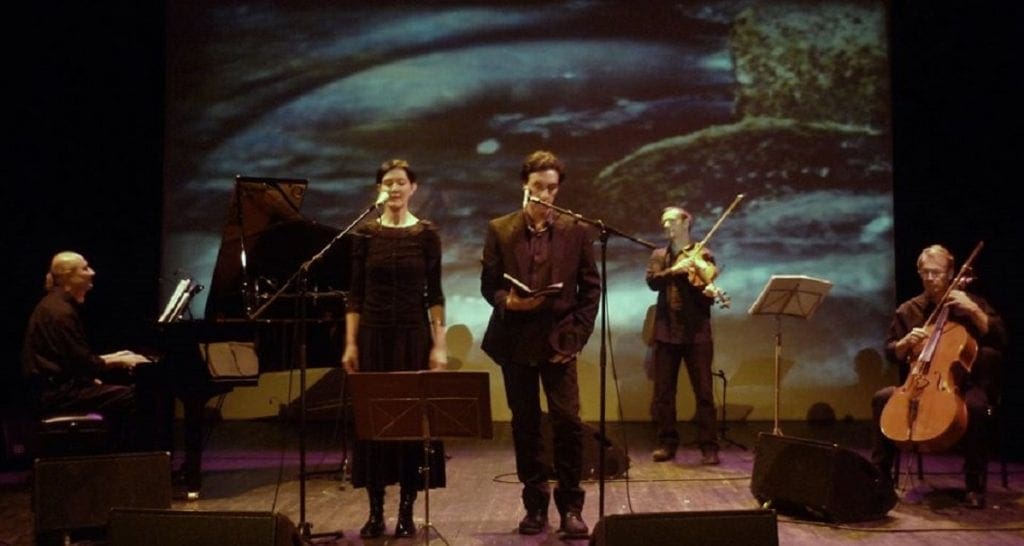 Set up in 1986 by Jean-Christophe d'Arnell, Pascal Andréa and Chloé St Liphard, Collection d'Arnell-Andrea rapidly became one of the gothic proud from France. Pascal Andréa left the band pretty fast, but the band kept his name in the band. Thirty years after the band's debut album "Un Automne À Loroy", Collection d'Arnell-Andrea stroke back with their first new opus in nine years while they also left the French ethereal label Prikosnovénie to join Trisol. Early this year they released the graceful work "Another Winter" while they ended the year with an electronic reworked version of the album entitled "A Recrafted Winter". I talked about it all with Jean-Christophe d'Arnell.
(Courtesy by Inferno Sound Diaries)
Q: You this year released your first new album since "Vernes-Monde" (2010). You however remained active, performing from time to time, but what brought you back to the studio writing new songs and record "Another Winter"? How did you experience this long break in between two albums?
Jean-Christophe: Indeed, this period may seem quite long from a discographic point of view; however we did not remain totally inactive: a few concerts (Brussels, Leipzig, Paris, Madrid…), the release of the vinyl reissue of "Villers-aux-Vents" (Meidosem Records) and finally, during this period, I also made some arrangements on a title by Louisa John-Krol and wrote a song in collaboration with Franz (bassist of Collection of D'Arnell-Andrea) for the compilation "This Makes Me… Fifty" of the Brazilian label Wave Records. In fact I started to work on new songs shortly after the release of our last album "Vernes-Monde" released in early 2011. And then, consider the time required for writing, recording and mixing (distributed discontinuously over more than 2 years!). Once the mixing was done, we still took a little more time to design the artwork and to consider a label change. If Trisol quickly appeared, the finalization of the contract and the recovery of rights with Prikosnovenie still have taken a few weeks.
"Another Winter" was first the title of a song, and to be completely precise, one of the very first, written in the period following the death of my father, during the winter of 2016. At this time I did not really imagine that my grief would be my only source of inspiration. So in a more or less conscious and explicit way, this theme of mourning has imposed itself to the point of constituting a kind of concept-album, a cathartic disc in a way. On the other hand, I really liked the idea of the possible double reading that this title offers: we can consider "Another Winter" in the sense of an 'other' winter (different, singular, since marked by the death of a loved one), but also as an invitation to approach the future, to move towards an 'other' winter, a 'new' winter. The eternal paradox between dark and light…
Q: "Another Winter" is your debut album on Trisol, which is for sure one of the leading labels from this scene. But you'll be for sure always linked to Prikosnovénie on, which you released 4 studio albums plus a live one and a 'best of'. What do you keep in mind from the 'Prikosnovénie years', which was a label with a truly spirit and a kind of 'ethereal family'? Are you still in touch with Fred Chaplin and Sabine Adéalide?
Jean-Christophe: If we chose to thank Frédéric, Sabine and Arno (Prikosnovénie) in the booklet of our album "Another Winter", it is because we are really aware of the work they have accomplished and the quality of relationship that we had with them. I do not forget that it is with "Tristesse Des Mânes" that we started this collaboration, which saw the re-edition (digipack) of our back catalogue, the release of 4 studio albums and one live (but no ' best of': "CollAge" was licensed by Las Call at this time!). Regardless of the human qualities of the Prikos team, it seemed to me that it was time to shake up our habits and try the adventure with a bigger label and perhaps also better identified on the 'dark' scene to which we obviously belong! Moreover, Frédéric (Prikos) perfectly understood this desire for change and rather facilitated the transfer of rights. He really is a good person.
Q: I should say "Another Winter" is an album in the purest vein of Collection D'Arnell-Andréa; a mix of different influences carried by this eternal melancholic atmosphere recovering the entire tracklist. The main evolution is maybe that there're a lot more songs sung in English than on previous albums. What kind of album did you want to accomplish and how did you finally come to sing more in English than before (maybe because of a new label)?
Jean-Christophe: I have always (even from our first EP "Autumn's Breath For Anton's Death" 1988) more or less mixed English and French for writing the texts. Half of the titles are in English on the album "Exposition" and "The Bower Of Despair" entirely written in English! In fact the main evolution is perhaps more due to the very process of creation, quite different compared to previous albums.
To make this album, I wanted to modify the usual process. The first work constraint was to no longer use my old drum machines and my old DX21 (already present since our first maxi in 1988!). So I composed from a new synth, and used different drum kits from the previous ones, which explains the evolution and enrichment of the tones and the structures of the songs. Once these models made, Chloé begins to create song parts (on which I will rely to the syllable to write the texts in a second time) then it is the bass which intervenes (find an interesting place among the bass -synthetic lines already written), and the electric guitar. Then the idea was that the strings (viola & cello) do not intervene systematically on all the titles, therefore, Xavier (cello) and Thibault (viola) have, at my request, made a selection of the songs that inspired them the most. Likewise Carine offered to temporarily leave her DX7 aside and only use the piano on all the tracks on this album.
So, to summarize, I compose the bases of all the pieces (rhythms, structures) with already a lot of arrangements, especially since the current technological means allow more flexibility, then, each musician brings his ideas, writes his melodic lines and also sometimes causes changes in structure or approach to the piece. In short, if all these small changes have allowed our sound to evolve, they also required us a little more time than usual for the realization. The recording started in summer 2016, with all the synths and rhythms, then in 2017 it was the turn of the guitars, the strings and the piano, the voices and the mix, which between the different plays, spread over several months .We are still working with Pierre-Emmanuel Mériaud, for recording and mixing (+ additional programming), and here again a lot can evolve according to his proposals and his inspiration. We can really speak of a collective achievement.
Q: I've always experienced your sound and lyrics as a graceful, artistic creation; music and poetry are the essence of your work! You've been always inspired by the beauty of 'old' French language, which is clearly reflected in your work. Tell us a bit more about this passion for 'classicism' and eventually references in the production of "Another Winter"?
Jean-Christophe: Actually I would define myself as a great nostalgic, which does not exclude 'a little' of melancholy too… Indeed, the distance imposed by the past transcends emotions has always been a source of inspiration for my poems I remain passionate about the period between the end of the 19th century and the beginning of the 20th, whether it be in the artistic or even architectural fields. I like old objects, old houses: the past really feeds my present, and as my present will soon belong to the past … I am filled!
The other main source of inspiration for this album remains Nature. The evocation of water is a strong link between the different songs, but it is more a question of rivers and ponds than of the ocean. These rivers (Les Mauves) and this river (The Loire) have always been part of my environment and that of my father; they represent a kind of link, between generations, between peoples and between the different periods of our own existence. This 'water of memory' which remains alive, when in winter everything seems silent or buried in the snow, also appeared to me as a landmark, a constant in this writing exercise which promised to be more introspective. In previous records there has always been talk of the relationship of Man to Nature (Nature as a refuge or as the tomb of humanity), but the expression of my deep feelings took a much more allegorical and autumnal form. With "Another Winter", the writing became more intimate and more direct as well, as if this sleeping Nature incited me for the first time to reveal myself more, to share emotions, feelings. And doesn't this vegetative rest look like a kind of a coma, or death? Regarding the more 'contemporary' and musical influences, there is always a fairly wide range of music ranging from NIN to Beach House, VNV Nation or Arvo Pärt!
Q: You've just released "A Recrafted Winter" on, which you reworked all songs from "Another Winter" into explicit electronic versions. What incited you to 'revisit' the original songs? How did the writing of the songs happened? What have been the main challenges and difficulties in the release of this 'sister-album'?
Jean-Christophe: In fact the idea for this album is entirely up to our sound engineer Piers Volta. This is a spontaneous initiative on his part; his bias was to really focus on the most electronic parts of everything we had recorded for "Another Winter" (lines of synths, rhythms), but while maintaining the original voices and preserving the original structures of the songs. Of course he also added a lot of things and felt absolutely free for a real re-appropriation of the tracks.
He started by reworking 5 tracks and then he made us listen to his work. Chloe and I were initially surprised, but quickly seduced by the new sound textures and the general atmosphere that flowed from it. I had the impression to listen to songs both totally new and so familiar at the same time… a strange feeling indeed!
"A Recrafted Winter" induces emotions, feelings really different because the general musical colour is obviously brighter, more 'positive'. A kind of electro, touching but still, a little 'dark' anyway: totally 'collectionism' actually!
Piers Volta's exterior look and superb reinterpretation of our songs is a perfect continuation of our album "Another Winter". A kind of rebirth or awakening of Nature after a long and painful winter…
Q: Collection D'Arnell-Andrea is now active for more than 30 years! What do you consider as the main facts and maybe the most important songs and albums all over your career? And how do you see the band and your musical activities evolving in times the music industry/business has seriously changed?
Jean-Christophe: We really haven't seen the time go by since our very beginnings in 1986. What I find incredible is being able to continue making albums, as we wish, while retaining total control over the artistic part, the same way as for our first EP "Autumn's Breath For Anton's Death". We have experienced 'from the inside' the various technological evolutions linked to the recording of music and its distribution, but ultimately, whatever the media, the problems linked to creation (writing, composition) are always really the same and remain the most exciting part of a band's career.
I also think that it is first of all a great human adventure; whether it are the musicians who are part of the band and all the people we met for music: the 'faithful' who follow us and carry us for a long time, journalists, sound engineers, graphic designers, the printers and the various labels with which we have come a long way…
And if I only had to keep a few albums, my choice would go to:
-"Un Automne À Loroy" (the first album which in a certain way foreshadows the 'style' of Collection d'Arnell-Andrea: the mixture of acoustic, electric and electronic instruments, the alternation of male and female voices, the importance of texts (poems) and the particular attention paid to the artwork.
-"Villers-aux-Vents": a certain form of 'electric' evolution thanks to guitars and collaboration, for the first time with an external producer Gilles Martin.
-"Tristesse des Mânes": neo-classical, totally acoustic album with compositions and rereading of certain titles in a 'chamber orchestra' configuration. And a way to underline a kind of filiation with certain composers of the 19th century that we love so much: Fauré, Duparc etc…
-"The Bower Of Despair": the darkest part of CDAA!
And necessarily, the most recent and really one of my favorites:
-"Another Winter"
Since you're here …
… we have a small favour to ask. More people are reading Side-Line Magazine than ever but advertising revenues across the media are falling fast. Unlike many news organisations, we haven't put up a paywall – we want to keep our journalism as open as we can - and we refuse to add annoying advertising. So you can see why we need to ask for your help.
Side-Line's independent journalism takes a lot of time, money and hard work to produce. But we do it because we want to push the artists we like and who are equally fighting to survive.
If everyone who reads our reporting, who likes it, helps fund it, our future would be much more secure. For as little as 5 US$, you can support Side-Line Magazine – and it only takes a minute. Thank you.
The donations are safely powered by Paypal.