'Click Interview" with Black Line / Douglas J. McCarthy: 'Black Line Is A Typographic Legal Term, Similar To 'Red Line'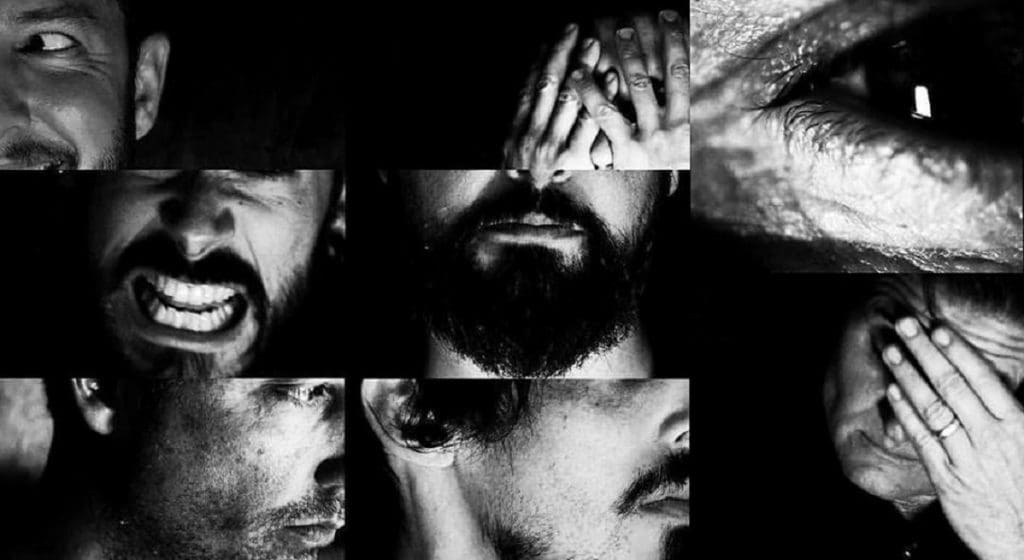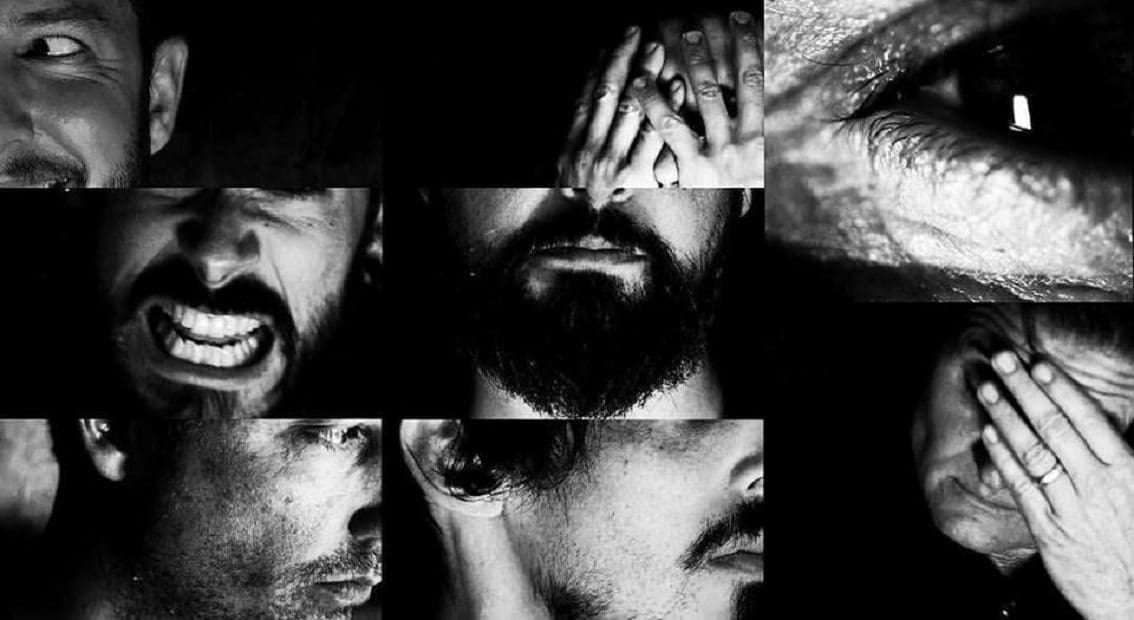 Black Line is fascinating concept, which was originally set up in 2016 as a continuation of DJM|REX, a project by Douglas J. McCarthy (Nitzer Ebb) and Cyrusrex. It became 'a diverse collective of musicians, producers, and sound designers, free to come and go as they please. With various production and remix projects in the pipeline, the self-released album "Treason, Sedition And Subversive Activities" offers up the first taste of what's to come'. Among the artists who contributed to Black Line you'll find Ken 'Hiwatt' Marshall (co-producer & engineer), Zack Meyers (co-producer), Brad Apodaca, Anthony Baldino, Michael 'prophei' Dietel, Bon Harris (Nitzer Ebb), Baseck, Jon Bates (Big Black Delta), Paul Barker (Ministry and REVCO), Christian Eigner (Depeche Mode), Mark Walk (Skinny Puppy), Maria Lui and of course singer Douglas J. McCarthy. I'd a chat with Douglas J. McCarthy.
You can download the "Treason, Sedition And Subversive Activities" album right here.
(by Inferno Sound Diaries)
Q: Hi Douglas, Black Line has been introduced as 'a diverse collective of musicians, producers, and sound designers, free to come and go as they please'. How did this concept saw the daylight and how did it really happened to make it come true?
Douglas: Hello, nice to speak to you. The project started after Cyrusrex and myself were finishing up the third of 3 DJMREX EP's. We still had some ideas for tracks and Christian Eigner, Depeche Mode's drummer, was in LA and offered to record some live drums. We went to a studio with a few basic bass line concepts and Christian played a variety of different takes as I wrote lyrics and melodies. It was an excellent days work and got us thinking about working with other friends to explore their take on DJMREX.
It soon expanded into being quite a lot more people including Bon (Nitzer Ebb) and Paul Barker (Revolting Cocks, Ministry etc) and we started working with producer Zack Meyers. We soon realized that this was actually more complicated than DJMREX so decided to give it a new name. Black Line is a typographic legal term, similar to 'red line', that means all previous drafts of a document are included. It seemed to fit the process.
Q: I can image it first of all is a damned crazy, but original way to bring 'friends' together or at least musicians who respect each other? What does it really mean to you and the others?
Douglas: It was pretty relaxed. Most of us live quite close to each other and Cyrus' studio where we worked. The main core of the people on the album were myself, Zack and Cyrus. Other people would drop by as they wanted and in the case of Michael who lives in San Francisco or Paul who lives in Portland, we would send tracks we thought they'd enjoy working on. We had a lot of song ideas and sometimes they'd reach an impasse so we'd move on to another idea. There are a couple of songs that made it to the album that started life as a different song or different songs that we'd skim the best ideas from to form a complete song.
In terms of what it means to myself and all those involved, I think it was something we never planned to do so in some ways it was a surprise to be working in this way, at other times it could be frustrating to have so many ideas springing forth and it took quite a bit of discipline, especially from Zack to filter the good from the bad.
Q: What are your personal experiences about friendship and respect between artists? Is it really possible?
Douglas: Hmmm, the old friendship and being artists conundrum! I have had the pleasure of working and collaborating with a variety of artists over the years. Dropping in and out of essentially someone's project is a lot easier than 'being in a band'. I think Black Line inadvertently blurred that definition and so poignantly now it is the time to tour the album it has, inevitably, been hard to make the decisions about whom will play live. We did a celebratory show in LA earlier this year where we invited all the players on the album and also Jason Payne from Nitzer Ebb, but we knew moving forward having 9 people on stage would be simply unsustainable. So with the Depeche Mode tour being announced there are unsurprisingly some hurt feelings right now.
On a more general level, I have a good quantity of friends who are fellow artists and there is a very high level of respect and nothing but good will to one another.
Q: Back to Black Line and the album "Treason, Sedition, And Subversive Activities". Was there a kind of concept or guiding line(s) for the artists to compose their song(s)? How did it happened and who has been responsible for the coordination between all contributors?
Douglas: There was no overview going into the project we just relied on our taste. But inevitably after listening to more tracks there seemed to be clear moods that were necessary for us to convey the whole project. The normal (for me) mixture of sadness, anger and humor. I wrote the majority of the lyrics and melodies but Zack was definitely involved and at times would originate lyrical ideas. Jon Bates (Big Black Delta) also had a role.
Sonically, Cyrus would set a mood for the most part using an extensive array of modular synthesis that would be the basis of a lot of the tracks that eventually made it to the album. I would then bounce off those to begin the lyrical and melodic content. Others would potentially add a level of additional musical mood and Zack would reign it in to be more honed in as a song.
Q: The songs are pretty diversified, but it feels a bit like your vocals are the cement between all of the songs to get the album compact and cohesive. Do you agree on this point and tell us a bit more how it was for you singing on such a diversified composition?
Douglas: We used layers of other people singing… Jon, Zack, even Ken Marshall, but there was never any thought of not having me sing and I agree with you that it creates the sound of an album to have a lead singer. But I would say that wouldn't I?
I have a diverse taste in musical styles and have never felt inhibited by having to be 'true' to one thing or another in terms of lyrical or vocal performance. I react to the actual elements I am dealing with with each track. It is a lot of work and at times I simply didn't have anything to say for a few days so we'd rework older tracks. Eventually the ideas are forthcoming or not. It's a creative process that is not something you can turn or off as you wish.
Another point is that we are using quite complicated time signatures that do not necessarily stay the same throughout the song so it was challenging at times.
Q: Can you imagine Black Line playing any kind of charity performance? It would be something unique or am I just dreaming..? It also is another way to ask you about further plans for Black Line?
Douglas: I better be able to imagine it as we are opening for Depeche Mode! Although I'm pretty certain that doesn't qualify as a 'charity performance'. We are planning on adding as many live shows as we can over the coming year.
Courtesy by Inferno Sound Diaries
---
Since you're here … … we have a small favour to ask. More people are reading Side-Line Magazine than ever but advertising revenues across the media are falling fast. And unlike many news organisations, we haven't put up a paywall – we want to keep our journalism as open as we can. So you can see why we need to ask for your help. Side-Line's independent journalism takes a lot of time, money and hard work to produce. But we do it because we want to push the artists we like and who are equally fighting to survive. If everyone who reads our reporting, who likes it, helps fund it, our future would be much more secure. For as little as 5 US$, you can support Side-Line Magazine – and it only takes a minute. Thank you. The donations are safely powered by Paypal.
---