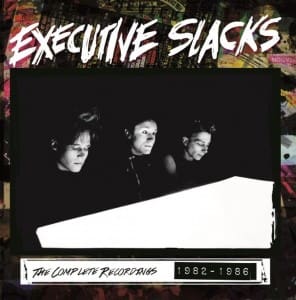 Cleopatra Records has announced they'll be releasing an exhaustive 2CD collection of the complete recordings by the Philadelphia based industrial/goth act Executive Slacks on July 10. "Complete Recordings 1982-1986" is a 2CD collection that gathers the band's entire recorded catalogue including 22 of the 36 songs appearing for the very first time on CD.
The CD is available now for ordering right here as a low-priced 2CD set
.
The Executive Slacks were formed in the 1980s in Philadelphia (USA) and were fronted by lead Matt Marrello on guitar and vocals. He was replaced in 1987 by Athan Maroulis until 1991 when the band broke up. The other band members were Bobbie Rae, John Young and Stuart Levy. Their album "Fire and Ice" (1986, Cleopatra records) included a cover of "Rock and Roll" (written by the convicted paedophile artist Gary Glitter).