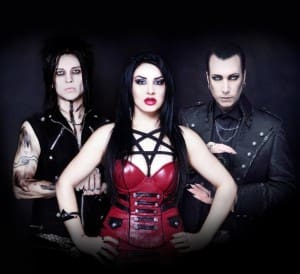 Out Of Line artist Chris Pohl (Blutengel, Terminal Choice, …) has joined up with Italian duo Helalyn Flowers for a new 6-track download EP, "Beware Of Light (feat. Chris Pohl)". The EP is available for ordering, you get 2 tracks now (streaming via the free Bandcamp app and also available as a high-quality download in MP3, FLAC and more), plus the complete EP the moment it's released.
Next to "Beware Of Light" you also get a 2nd new track, "Karmageddon", which shows a rougher angrier face of Helalyn Flowers with sharp guitar riffs, powerful female vocals, upbeat electro beats and strong synth lines. Recommended release showcasing 2 excellent talents from the dark wave scene.
The EP acts as an appetiser for their 4th studio album "Sonic Foundation" that is scheduled for an early Spring 2016 release via Alfa Matrix. On remix duties we find Aesthetische, The Psychic Force (with guest vocals by DJ Michelle) and XMH who took care of an upbeat cyber punk retake. Available right here on Bandcamp.