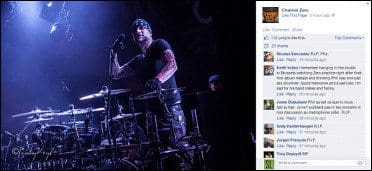 From the Channel Zero camp comes the sad news that drummer Phil Baheux has passed away. Phil Baheux, founding member of the band together with vocalist Franky De Smet-Van Damme and bassist Tino De Martino, died earlier today at the age of 45. The band announced the death of Baheux on their Facebook page.
Channel Zero is a heavy metal band which formed in Brussels, Belgium and were often referred to as "the Belgian Metallica." They achieved their breakthrough with the album "Unsafe" in 1994. The album featured guest vocals of Billie Milano of S.O.D. and Richard 23 of Front 242. Their last studio album "Black Fuel" was released in 1996. It wouldn't be the only Front 242 link for the band. Franky De Smet-Van Damme (Channel Zero, Skitsoy) would later join Holy Gang together with Xavier Carion (Cyclone, Channel Zero, Sons of Jonathas), Richard 23 (Front 242) and Marc Du Marais of La Muerte.
Channel Zero disbanded at the height of their career in 1997, however in 2009, the band announced a series of reunion gigs starting in January 2010. A new album was in the planning together with guitarist Mikey Doling, but it's not sure what will happen now.