Genre/Influences: Cross-over, breakbeats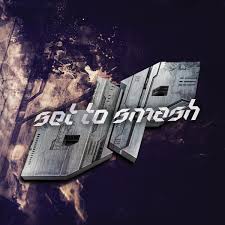 Content: Deathproof is duo formed by producer/singer Chris DeMarcus (FLOA, Stiff Valentine, Dismantled) and drummer/singer Jason Bazinet (FLA, Sounds of Mass Production, 16volt). This half Canadian – half American duo signed to WTII Records to unleash their official debut album "Set To Smash".
Get ready to endure 11 hard and merciless compositions built on solid breakbeats, heavy electronic manipulations and empowering guitar riffs. "Set To Smash" clearly sounds like a smasher and takes off without a real intro. "Bloodrush" is a devastating opener filled with adrenaline and a real impressive production where electronics and guitar have found a harsh, but harmonious fusion. The enraged vocals inject an extra element of aggression, but this is nothing compared to some of the upcoming songs.
"Streets Of Rage" stands for power and rage and a sound without real compromises. Deathproof doesn't care about established standards and labeled genres; they simply move straight ahead composing a furious work. "Psychotic Reaction" sounds like the hybrid between Public Enemy and The Prodigy. It stands for total sonic violence driven by murderous guitar riffs. A similar impression comes back at "Headshot" on, which the Public Enemy-wink has been reinforced by the somewhat rap-like style of singing. This song is also characterized by a sublime progression in writing. It's not only power, it's also about a real provocation.
There also is a kind of punkish element running through some of the songs and I especially would like to tip "Shitlist" evoking some good-old souvenirs from The Stooges. It's not the most representative song of the album although this song is worthy of examination.
The vocals don't really appear to be one of the main elements of the work –some songs are instrumentals, but the sung passages for sure inject something extra. The music however sounds elaborated enough without vocals and will give you an extra opportunity to enjoy the harsh sound manipulations, energetic drum loops and deadly guitar riffs. The title song for sure is a great ambassador in the genre, but also reveals a cinematographic and evasive approach mixed with groovy loops and danceable breakbeat vibes. It also is a piece reminding me of some work of FLA for the somewhat epic-like strings hanging over the work.
Conclusion: This album sounds like a real solid and fully accomplished debut work made by two experienced artists. "Set To Smash" is a real resistant new sonic virus, which I think will quickly contaminate a huge number of consenting victims.
Best songs: "Psychotic Reaction", "Headshot", "Streets Of Rage II", "Shitlist", "Set To Smash", "Bloodrush".
Rate: (DP:8½)DP.
Band: www.facebook.com/pages/Deathproof-Music/272554836132959
Label: www.wtiirecords.com / www.facebook.com/WTIIRecordsLLC