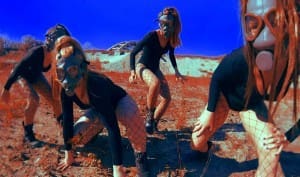 If you have already downloaded the free "Face The Beat: Session 2" compilation, you will have noticed that track 17 called "Etika" by the Serbian industrial rock band dreDDup is featuring the legendary Dario Seraval from the Croatian/Slovenian cult industrial band Borghesia on vocals. It was one of 3 songs that the industrial outfit dreDDup sent us for inclusion on the compilation.
"Face The Beat: Session 2" features lots of new talents, and a few familiar 'faces' from the electro, wave, industrial scene including John Fryer, Acylum, NoyceTM, Desireles, Dario Seraval (Borghesia) and so on. The purpose is/was not to offer you material from the most popular acts, but mostly to let you discover newer bands which caught our attention and which often haven't got a label contract or have just been recently signed etc.. The free compilation, counting 52 tracks, is available now via Bandcamp. It's a free compilation, however if you want to support some of Side-Line's charities (Plan International being one), feel free to donate too, all proceeds will go to financing these projects.
Here's "Etika" by dreDDup featuring Dario Seraval:
dreDDup is based in Novi Sad, Serbia and has been active since June 1997. Their first release, "Abnormal Walz", featured a sound ranging from experimental electronics and techno to electro punk. It was followed by their first full-length album, "Mr Borndead's Feast" which was released in 2004. In August 2007 the band landed the album "Future Porn Machine" offering a crossover sound. From that moment on, dreDDup labeled their music as being 'massacre industrial'. The third album, "El Conquistadors", came out late in 2008, the 4th was released in February 2011 simply titled "dreDDup" again offering a crossover of multiple electronic genres. Their fifth album was released in 2012 celebrating their 15th anniversary. In late 2013 the band started working on their new record entitled "I dreamt of a Dragon" which was released at the end of 2014. For this album they abandoned their aggressive style of music and went for a more electronic and commercial sound. The album was self-released. The track "Etika" is taken from this album.
They also released a video from this sixth album, which you can see below.