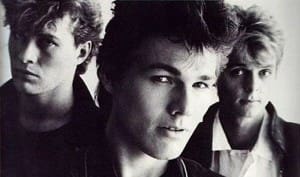 a-ha's 4CD/DVD set called "Hunting High And Low: Super Deluxe 30th Anniversary Edition" and which is loaded with rare and unreleased demos, mixes, music videos and more will be available on September 18th. Pre-orders are now accepted via on Amazon USA
and on Amazon UK
.
The packaging will be a 10″x10″ hard backed book format, including a 60 page glossy, bound booklet packed full of never before seen photos and new liner notes.
For those who missed the vinyl reissue of this album, you can order the 180-gram heavyweight vinyl on Amazon UK
, Amazon DE
and Amazon USA
.
Note that this set has a completely different content compared to the deluxe 2CD version released a few years ago. The set is divided as follows: CD1 is the album as is, completely remastered of course, CD2 holds 25 demos the band recorded between 1982 and 1984 (including previously unreleased material recorded at a Naersnes studio such as the Norwegian sung track "Nå blåser det på jorden" or an extra demo version of "The Blue Sky"). CD3 offers all single and extended versions plus the b-sides. CD4 holds alternate (early) mixes which were all previously unreleased (if you don't count the video only mix of "Take On Me"). The DVD contains 6 videos including an unseen slightly alternate cut of the 1985 "Take On Me" video as well as the 1984 version and of course the classic video.
There will be further deluxe editions of "Stay On These Roads" (1988), "East of the Sun, West of the Moon" (1990) and "Memorial Beach" (1993) later on. No sign of a deluxe edition of "Scoundrel Days" though, we have asked the management for some feedback on this and will adapt the story when we get more info.