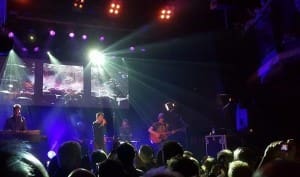 a-ha had an exclusive release party gig for their new album "Cast In Steel" yesterday, on 9 September. Tickets for the event could be won during a signing session which took place on 8 September at the Oslo City Platekompaniet store.
The release party took place at Union Scene in Drammen where the band has recently done tour rehearsals.
Although photos/videos were not allowed during the event, a Side-Line correspondent was able taking a few pictures of the live show which consisted of 11 tracks surprisingly including the fan classic "Soft Rains of April". For the rest the tracks were taken from the bands complete repertoire.
The setlist:
The Wake
I've Been Losing You
Cry Wolf
Hunting High and Low
Forest Fire
Early Morning
Sycamore Leaves
Soft Rains of April
Under the Makeup
The Sun Always Shines on T.V.
Foot of the Mountain
a-ha's new album "Cast In Steel" is out now can be ordered on iTunes (including 6 bonus tracks). If you prefer the CD format, then head here on Amazon Germany
to get hold of the "Cast in Steel" fanbox set
.