Genre/Influences: Dark-electro, EBM.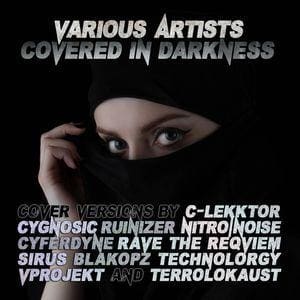 Bands: C-Lekktor, Nitro/Noise, Rave The Reqveim, Terrolokaust, Cygnosic, vProjekt feat. Jamie Nova, Technolorgy, Sirus, Cyferdyne, Ruinizer feat. Séamus Bradd, Blackopz feat. Mike Saga.
Content: The concept of this sampler isn't new, but always remains an interesting discovery. The title clearly indicates the purpose of the album, which consist of cover versions from famous 80s and 90s songs. I have to admit that I'm not familiar with all of the original songs, but in the end it's the result that counts.
Notice by the way that this sampler has been released as a strictly limited CD of 300 copies as well. I can't say that most of the song got me wild, but I enjoyed the rather funny, but efficient dark-transposed cover of "Fight For Your Right" (Beasty Boys) by Blackopz feat. Mike Saga. Kraftwerk's "Radioactivity" belongs to the collective memory of electronic music so it always is a big challenge covering such a word-wide hit. C-Lekktor transposed the song into its own dark body-styled music adding power and anger while keeping the melody line.
Depeche Mode always remains an inspiring band when it comes to make cover versions. Their "Black Celebration" has been raped –in a great way, by Nitro/Noise. But one of the most surprising covers is "Beez In The Trap" from Nicki Minaj by Ruinizer feat. Séamus Bradd. I can't say that I'm totally convinced, but this version for sure is the most original song on the list.
"I Ran" brings us back to the 80s and to A Flock Of Seagulls. This legendary song has been covered by vProjekt feat. Jamie Nova (DWA owner) in an interesting electro approach with some guitar playing on top. One more surprising song is Grendel's "End Of Ages" covered by Cyferdyne. It sounds dark-body minded although I have to admit I prefer the original version.
Conclusion: I like the concept, but expected a bit more out of the covers globally speaking.
Best bands: C-Lekktor, Nitro/Noise, Blackopz feat. Mike Saga.
Rate: (DP:6½)DP.
Label: http://dwa-digital.com / www.facebook.com/DigitalWorldAudio