Track-per-track comment for the brand new Mildreda album 'Coward Philosophy'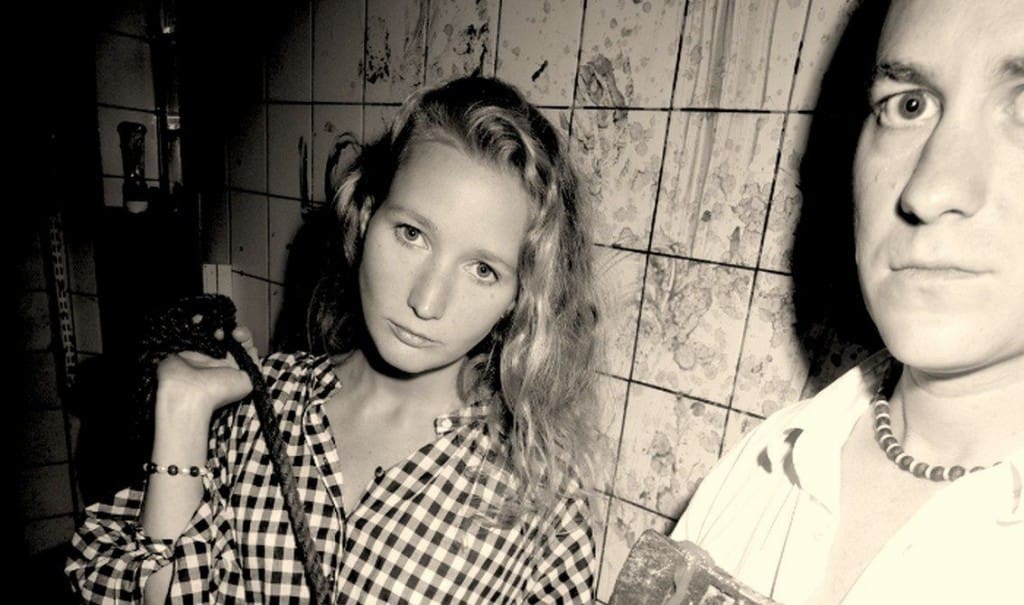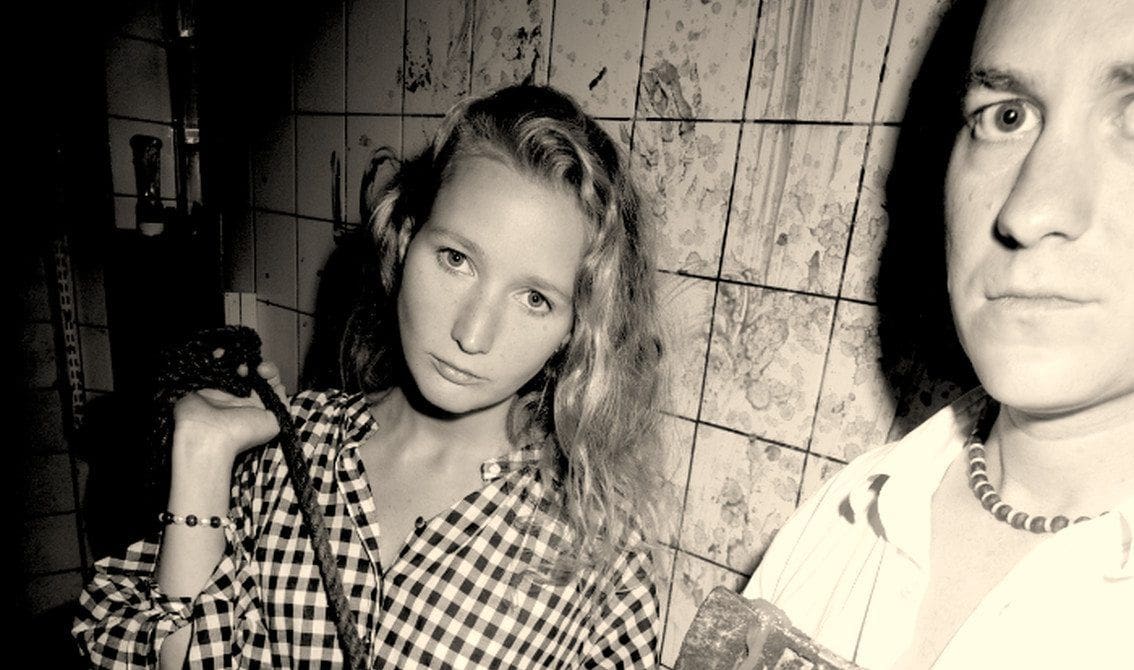 (Photo by Romuald Ishoothorizon Swieconek) In 2009, after launching a one-night show again with his Mildreda gang for a birthday party, Jan Dewulf (Disconnekted) recorded 13 new Mildreda tracks. They remained unhidden until Alfa Matrix released them a few days ago on the "Coward Philosophy" download album (together with a huge lot of demos and live recordings totalling 33 tracks) via Bandcamp.
We asked Jan to complete us a track-per-track comment of the 13 songs he recorded back in 2009, so get ready for a trip through Dewulf's memory lane with lots of nice-to-know details! In the meantime you can listen o each track while reading about it.
01 – Aborted
'Aborted' is a reinterpretation of 'The begetting', the opening track of the early demo tape 'De Laffe Denker' from 1996 (which is also included as bonus material with the full download). I was inspired by the dark and bombastic sound of In Slaughter Natives and sampled some parts from Carl Orff's 'Carmina Burana' to evoke the dark and dramatic atmosphere. When revising the old sounds, I couldn't find a certain part, so I reused the original 8bit sample from the trashy sampler of my old Yamaha PSR 2700, the only piece of equipment I had back then.
02 – Erazor
'Erazor' was the first real 'new' Mildreda track after the long hiatus of many years. I sampled Sergei Prokofiev's 'Battle On The Ice', as I did before on the demo track 'The bomb' (from 1996 and also included as bonus material). I guess this is my all time favorite track that I ever produced. We got the lyrics from Nabokov who wanted his last unpublished novel to be deleted by his relatives after he died. Musically it's a salute to one of my biggest inspirations In Slaughter Natives.
03 – This time
'This time' revisits the classic 90's dark electro sound. The sinister cold sequences, aggressive vocals and the dark pumping beat were inspired by bands like yelworC and amGod, who were also a main inspiration when making 'De Laffe Denker' in 1996 (also included as bonus material). I sampled some sounds and dialogues from movies to add a cinematic flavor and create the typical Mildreda sound. Any idea which movies were sampled here?
04 – Bright side
'Bright side' is the latest track we did for the new Mildreda album. The track celebrates the 'Canadian' influences that always have been there as well, next to the 'German' (or European) dark electro inspirations. Numb has always been a favorite, next to of course Skinny Puppy and Front Line Assembly. "What magic molecules were hidden in the drinking water of Vancouver?", we sometimes wonder. 'Bright side' is a salute to those bands. We think it has that nice FLA-flavour, or should we say that secret 'FLAvour of the Weak'? 😉
05 – Anthem of tomorrow
Although Mildreda doesn't want to be too political, 'Anthem of tomorrow' deals with the current terror threats the world is facing. The outlook isn't exotic. That dark pessimistic and frightening feeling is exactly what the track wants to evoke. If you wonder what the sampled prayer is about? It's actually sampled from different sources, stretched, mangled and played backwards, so it really makes no sense at all. (Just like any other prayer for that matter)
06 – Into the dark night
'Into the dark night' is probably the fastest and most 'club friendly' track of the album. I've always loved some good fat saw waves to create those bass lines like e.g. Juno Reactor did on their 'Transmissions' album. (And the white noise for the icy melodies…) So yes, there have always been some goa influences in the music of Mildreda, which might be a surprise.
07 – Fire
Three versions of 'Fire' are featured on the full bonus package of the album. Next to this fully revised version, you'll hear both the original version from 1996 and a an updated '98 mix that was recorded live. Somewhere along the road Heyaeb made a remix of 'Fire' but I am afraid that one is forever lost. (It's on a cd-r somewhere.) I gave the chorus line of this new version a little Leaether Strip flavour as a salute to Claus for his big influence.
08 – How do we tell the kids
Lam-'Bras by Project Pitchfork was one of those life changing albums for me. The combination of the dark threatening beats with the lighter melodies were inspirational when I was shaping my own Mildreda sound. With 'How do we tell the kids' I wanted to revisit that particular approach. Pompous lyrics and key changes are part of that game too.
09 – Flat earth theory
'Flat earth theory' was written when I was working on the Diskonnekted album 'Old School Policies'. The idea of a rebirth for Mildreda wasn't even existing back then. It was written rather in a hurry after I had been listening a whole week to Mentallo and the Fixer. It remained an instrumental simply because I never wrote any lyrics for that one. The samples are not from a horror flick this time, but from Disney's 'The Sword in the Stone'.
10 – Stories
'Stories' was one of the first 'completely new' tracks that I wrote after revamping Mildreda. I remember I wanted to sound big and evil. And when in doubt during the writing process, I always asked myself: "What would Skinny Puppy do?".
Back in the nineties when I was working on my first demo tapes, I was frustrated and limited by the lack of studio gear. This time however it was very relaxing being able to work spontaneously and comfortably on an inspirational flow.
Apart from the Canadian influence, a big salute to Placebo Effect for their inspiration!
11 – The Parting
The year 1994: I was 16 years old and wanted to become a famous dark electro artist. I started my first project: Mildreda. My brother Pieter wanted to become a writer and a poet. He was actually doing a very good job, so I asked him to translate some of his poems for me to use as 'lyrics' for my songs.
We're still 1994: After a disastrous first demotape I made my first 'real' cool sequence. At that time I didn't have my own keyboard yet, so I used the Yamaha PSR 400 that I borrowed from my friend Tim (aka DSW and Kraum that later became Foochow). Not knowing anything about programming I still played everything in 'real time' straight into the sequencer and (imagine this) I didn't discovered the quantise function yet. So yes: hi hats, beats, snares and bass line lived a life of their own. But still: I felt this was the beginning of a great adventure. My brother Pieter came up with very cool lyrics, and that's how the first version of "The Parting" was born. It's pretty much the blueprint of all other songs that I would compose later on.
Many versions were made after that one, with that typical melody line as the secret ingredient that never changed. Even cover versions were made, e.g. the cover version by Heyaeb as featured on their debut release 'Aperi Ventes'. There's also an unfinished Diskonnekted version somewhere, with Schidde on guitars.
After so many years, it was about time to make an ultimate Mildreda version. And I really think we succeeded in doing this. This is the one true version you should know and listen to.
12 – Rush
Because of the very clubby sound, 'Rush' is probably the stranger in the midst. Not sure why or when it was made, but it ended up in our live gig during the Gothic Festival 2010 in Waregem, shortly after our first rebirth. It's very dark and aggressive, so I guess it fits Mildreda after all.
13 – Pale blue dot
Musically 'Pale blue dot' is a salute to Project Pitchfork. I wanted to create the same drama with lots of strings and keys changes. I like the contrast between the merry lighter sounds, and the heavy rumbling beats.
Lyrically it is inspired by a beautiful philosophical essay by Carl Saga. He wrote it after a photograph was made of planet Earth by the Voyager 1 space probe from a record distance of about 6 billion kilometers (3.7 billion miles). On that particular photograph, the earth could only be seen as a very small blue dot. Carl Sagan advocates our responsibility to deal more kindly with one another, and to preserve and cherish the pale blue dot, the only home we've ever known.
The complete album is available now on Bandcamp!
Since you're here …
… we have a small favour to ask. More people are reading Side-Line Magazine than ever but advertising revenues across the media are falling fast. Unlike many news organisations, we haven't put up a paywall – we want to keep our journalism as open as we can - and we refuse to add annoying advertising. So you can see why we need to ask for your help.
Side-Line's independent journalism takes a lot of time, money and hard work to produce. But we do it because we want to push the artists we like and who are equally fighting to survive.
If everyone who reads our reporting, who likes it, helps fund it, our future would be much more secure. For as little as 5 US$, you can support Side-Line Magazine – and it only takes a minute. Thank you.
The donations are safely powered by Paypal.