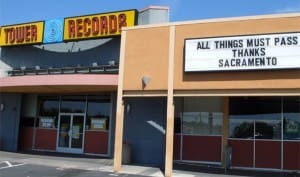 Tower Records was once a retail powerhouse with 200 stores, in 30 countries, on 5 continents. You'll soon be able to see how Tower Records became the heart and soul of the music world, and how it all crumbled away when "All Things Must Pass: The Rise and Fall of Tower Records" hits the theatres on October 16.
The documentary, which was partially crowdfunded (collecting $92,025 from 1,686 backers on a pledged goal of $50,000), focuses around Tower Records founder Russ Solomon. And that's not a coincidence, because when you went to Tower Records you were served by people who knew something about music. And that's because from the opening of the first Tower Records in 1960, Solomon empowered employees at each store to make the decisions necessary to help foster the local music taste. In 2004 the company filed for bankruptcy and by the end of 2006, Russ Solomon's Tower Records had shut the doors to nearly every one of its worldwide outlets.
The documentary premiered at the SXSW film festival last March and got a pretty good feedback from the assembled press.
Here's what you can expect: