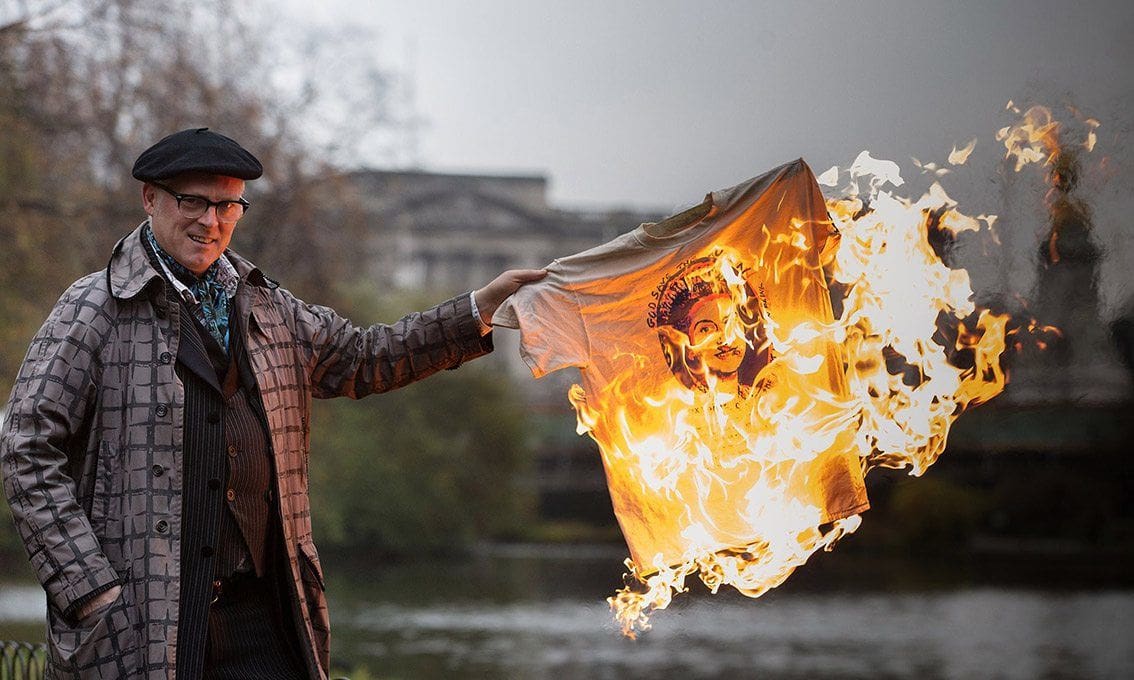 Photograph: Ki Price/Getty Images
Joe Corré (the son of former Sex Pistols manager Malcolm McLaren and fashion-designer Vivienne Westwood) burned on 26 November 2016, on the 40th anniversary of the release of "Anarchy in the UK" (of Sex Pistols), his punk-memorabilia collection, estimated to be worth £5m, as a protest-act on a boat in London.
His memorabilia consisted of many collector-items and original stuff like clothes worn by Johnny Rotten and Sid Vicious and test-pressings of Sex Pistols records.
He said that punk has become nothing more than a "McDonald's brand … owned by the state, establishment and corporations" and that "punk is dead and was never meant to be nostalgic".
"The Queen giving 2016, the Year of Punk, her official blessing is the most frightening thing I've ever heard" Corré said in a press release. He claims that Punk London, a series of events celebrating the 40th anniversary of punk, sponsored by institutions including the British Library and the Museum of London, are supported by the Queen and are proof that "the establishment" has "privatised, packaged and castrated" punk.
At the same time Vivienne Westwood was giving a speech for Climate Revolution, trying to convince the audience to switch over to green energy.
John Lydon (aka Johnny Rotten) suggested that Corré should have sold the memorabilia-collection and given the proceeds to charity.