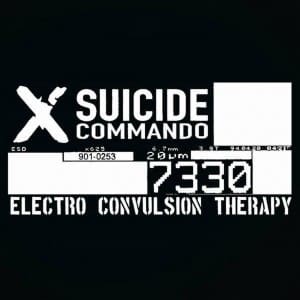 Here's a an extremely limited item that will be sold out in record time. Suicide Commando presents the official re-release on vinyl and CD of their last ever tape "Electro Convulsion Therapy" from 1993. The Vinyl is accompanied by a CD (including 8 bonus-tracks – see the track list here).
The first Suicide Commando album "Critical Stage" was released on Off Beat, but Johan Van Roy released 9 tapes before releasing his debut in 1994. "Electro Convulsion Therapy" was the last and the most successful tape released in 1993. It contained the original 4 track recordings of later club hits "Traumatize", "Necrophilia" and "Time" while also featuring "Close your Eyes", "Sheer Horror" and "How it feels".
The re-release of "Electro Convulsion Therapy" holds the complete last tape on LP and also contains a selection of the best songs from the other early tapes released between 1988 and 1992, including several rare songs and even one previously unreleased song as a bonus on the free cd. All tracks have been remastered by Eric Van Wonterghem at Prodam Berlin 2015.
You can order your copy right here and be VERY fast because this will be sold out in record time!