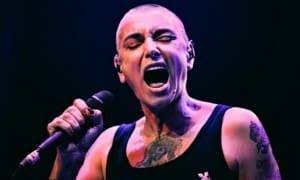 In honour of the funeral re-enactment of Jeremiah O'Donovan Rossa in Dublin (Ireland), Irish artist Sinead O'Connor has recorded "The Foggy Dew", a track which will be up for free download from tomorrow (August 5th 2015) on from the UFC website.
It was UFC champion Conor McGregor who adopted "The Foggy Dew" as his anthem, inviting Sinead O'Connor to sing it live during his octagon entrance at UFC 189 at the MGM Grand Garden Arena in Las Vegas on July 11th 2015.
"The Foggy Dew" was written by Canon Charles O'Neill, a parish priest of Kilcoo and later Newcastle, County Down, sometime after 1919. The song chronicles the Easter Uprising of 1916, and encourages Irishmen to fight for the cause of Ireland, rather than for the British, as so many young men were doing in World War I.
A video of the song as delivered by Sinead O'Connor can already be viewed below.
O'Donovan Rossa was a renowned leader of the Fenian movement in the 19th Century seeking independence from Britain. The Irish Republican Brotherhood (IRB) – a small, secret, revolutionary body committed to the use of force to establish an independent Irish republic – was known colloquially as the Fenians, a reference to Na Fianna a band of warriors who defended Ireland from invaders in Irish mythology.
His burial in Dublin's Glasnevin Cemetery on 1 August, 1915, was one of the largest political funerals in Irish history. The event is seen as a pivotal moment in Irish history, as several of those who attended went on to take part in the 1916 Easter Rising.
A two minute history of O'Donovan Rossa can be viewed here.