Portion Control – "We aren't musicians so for us the mouse is still the best tool!" – Tech-Talk with DJ Wildhoney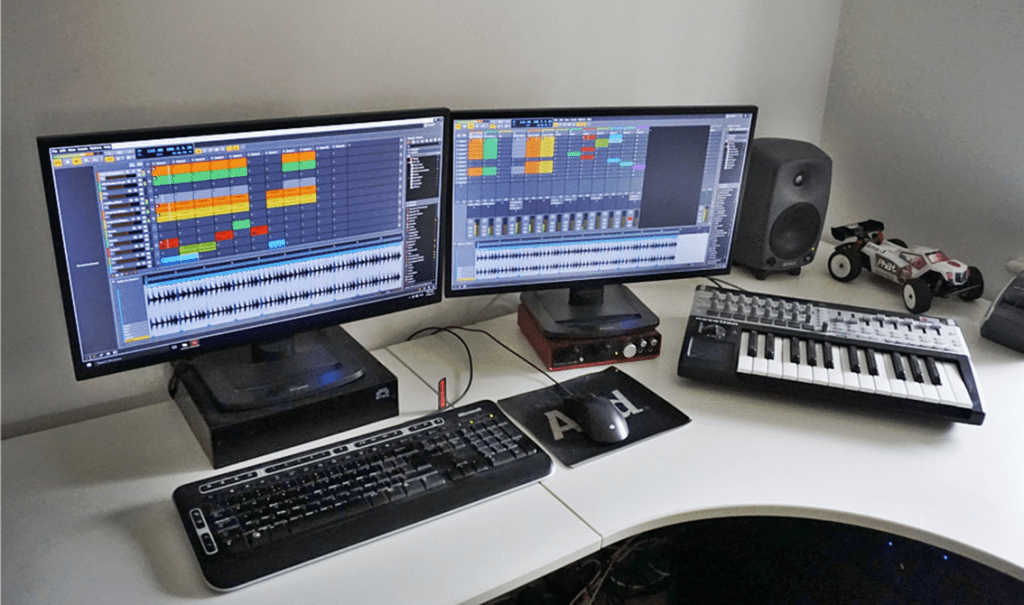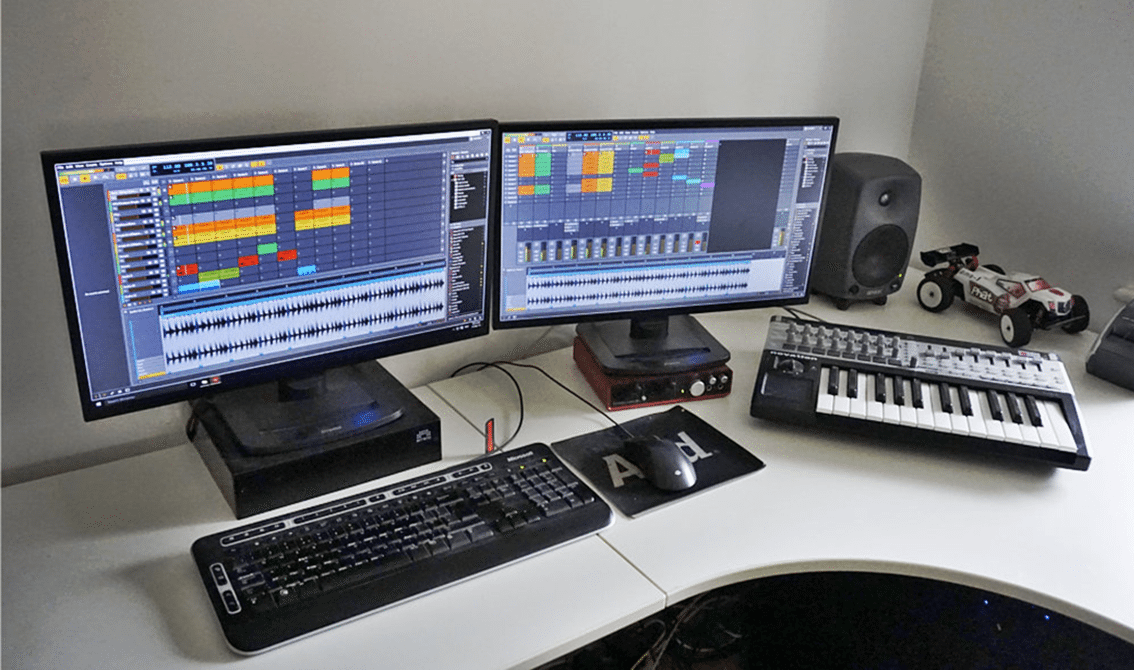 In 1980 Portion Control, one of the biggest and most underground and influential electropunk/industrial/EBM acts of the UK was formed in South-London. Founding member John Whybrew (also known from the side-project Solar Enemy) explained to us which gear the band used and abused to create their typical sound!
SL: How long ago did you buy your first keyboard ever? Which technology did it use (MIDI, 3.5″ floppy disks,…) and do you still own it?
JW: First ever synthesizer was an ARP Axxe from Chase Musicians in Charlton Street North London. It was a huge amount of money, monophonic or maybe duophonic and came with a pad of A4 patch sheets you had to use to mark all the knob and slider positions. The first thing I did was get the patch sheets photocopied so I wouldn't run out. The manual came with schematic diagrams and sample patches. To set-up a patch would take maybe 3 minutes, and of course with no memory absolutely nothing was saved. However the actual sound-quality was very good and in some respects comparable to today – which is pretty remarkable. We also had an Apple II computer based Greengate DS:3 sampling and sequencing system, allowing us utilise sampling at its infancy, albeit with mixed results. We knew at the time that we stood on the threshold of an important time of technology. The Greengate DS:3 couldn't map across keys and had a tiny memory although basic samples could be saved to disk. The sequencing part was a bit like a primitive tracker and without mathematic degrees we struggled … but it was great to use a basic sampler and record the results to tape. The Akai S900 then Akai S950 and finally the Akai S1000 HD replaced the Greengate DS:3 as sampling had become so important to our progression.
SL: Which computer(s) and software do you currently use in your (home)studio?
JW: We have always used Atari computers followed by pc's for our audio making (apart from the Apple II, running Greengate DS:3). Focusrite Saffire PRO 24 was a big favourite in the early days. Now we use Bitwig Studio and Presonus Studio One 3 as well as Ableton occasionally. We always buy high-end quiet pc's to make sure all our playback is glitch free.
SL: Can you describe all synth gear and hardware you use nowadays? Which piece is the most valuable for you?
JW: Since 2004 we have only used software. Soft synths we favour are: Reaktor 5, Serum 64, FM8, Cakewalk Z3TA+2, Spectrasonics Omnisphere 2, Spectrasonics Trillian and Vengeance Producer Suite Phalanx (sampling duties). Effects include everything by Audio Damage and D16, Omnicide, RP Distort and Guitar Rig 5. The computer sound module is currently Focusrite Scarlett 6i6 with Genelec monitors and a Novation 25SL MKII MIDI controller pretty simple set-up, but allows for deep sound design.
SL: When performing live, which keyboards and software do you use on stage?
JW: We cannot play keyboards so sequence our music live, feeding individual channels to a Zoom R16 digital mixing desk. This way we can balance a mix to suit the venue. We also use VJ software to trigger short looping video clips for our backdrop projections, which are a very important part of our set-up.
SL: According to your opinion, which are the most legendary synths ever produced?
JW: In the '80s when we utilised them we loved the Roland TB-303, Roland TR-909 Drumcomputer, Moog Rogue ("I Staggered Mentally"), Roland Juno-6 and most importantly the Roland MC-202 ("Step Forward"). Our early recordings were often in London studios so we would utilise whatever the studio had, which allowed us to experience the Yamaha DX7, Moog Prodigy, Roland Jupiter-8, Sequential Circuits Pro One, Movement drumcomputer, etc.
SL: And which are according to you the biggest synth artists/bands ever?
JW: Throbbing Gristle, Tangerine Dream, Metabolism.
SL: Share with us the worst case scenario that ever happened to you live on stage or in the studio!
JW: Live we used to use a combination of a hard disc multichannel recorder and a laptop to sequence the audio and trigger the video clips. We had a Yamaha AW16 that streamed from a hard drive and if Dean stomped about and the stage was springy I could see the hard drive struggling to keep consistent playback. It skipped a few times over the years but now we use a Zoom 16 track with solid-state memory. It also defaults to battery power if the mains trips. Our laptops are also solid-state now and don't rely solely on power. Given the very variable situations we often find ourselves in need to be prepared.
SL: The unavoidable question: do you prefer analog or digital synths more? And what's your opinion about the virtual analog concept?
JW: Analog emulations, although we use FM synthesis and pure digital as well. A good cold digital bass line with analogue emulated drums are perfect! What's the point of struggling with older analogue synths that cannot save patches, drift out of pitch and have no sync options? No fun in our opinion. When we bought our Wellcome in 2004 we had e-mails from people refusing to believe it was created purely with plug-in synths. That was in 2004, look at todays soft synths, such as UK FXpansions Strobe2 and Xfers Wavetable Synth Serum – these are simply amazing and packed with features such as appegiators, sequencers and multiple effects … and cost a fraction of the price of hardware.
SL: Isn't the digital technology evolving too quick and becoming too complicated for artists nowadays?
JW: Not evolving too quickly, just presenting too many sounds/options and possibilities. Nowadays you have to be a sound designer, musician, engineer, producer and tea boy.
SL: How will the future of creating electronic music look like?
JW: This is hard to say. Almost all non-guitar music is electronic. I'm not sure a pure electronic band has a stance now? Apart from Kraftwerk who produce what we conceive as futuristic electronic music, although this appears retro now …? It's a bit like Blade Runner – time has overtaken many aspects of the film. Is sampling considered electronic music if it conveys analogue instruments? I honestly don't think anyone cares if a band's 'electronic' or even quite what this means … Currently there seems to be a move away from the some what sterile programming of music using a mouse and keyboard. Interfaces such as machine and countless launchpads are being released … for pc these aren't interesting, they are another box to rig up and imply you can input via rhythmic programming, we aren't musicians so for us the mouse is still the best tool.
---
Since you're here … … we have a small favour to ask. More people are reading Side-Line Magazine than ever but advertising revenues across the media are falling fast. And unlike many news organisations, we haven't put up a paywall – we want to keep our journalism as open as we can. So you can see why we need to ask for your help. Side-Line's independent journalism takes a lot of time, money and hard work to produce. But we do it because we want to push the artists we like and who are equally fighting to survive. If everyone who reads our reporting, who likes it, helps fund it, our future would be much more secure. For as little as 5 US$, you can support Side-Line Magazine – and it only takes a minute. Thank you. The donations are safely powered by Paypal.
---