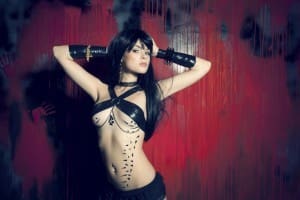 Out now is the debut album "Start" by the synthpop formation Omnimar. The band which was formed in 2012 consists of the Moscow based duo Maria Mar and Yaroslav. Their debut, out via darkTunes Music Group, counts 11 tracks and sounds surprisingly Western European. Says the band: "Although we live in Russia, we prefer to work with European sound engineers, for example from Germany or Holland, because that is where our music stylistics comes from."
The band debuted with their first EP "I know" in 2012, offering 5 tracks. That EP was followed by the dark-industrial single "Resource" in September 2013. Two more singles followed, "Herzschlag" and "Ego Love".
Below is already the video for "Reason", a track from the band's new album "Start".