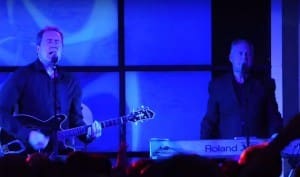 OMD, aka Orchestral Manoeuvres in the Dark, are set to release a live version of one of their most notorious records, 1983's "Dazzle Ships" which was recorded live at the Museum of Liverpool. When first released "Dazzle Ships was a critical and commercial flop. Record Mirror considered it to be "difficult and fractured" while Time Out spoke about "redundant avant-garde trickery". Since then it has however grown out to be a cult release.
Below is an exclusive clip of the band playing "Genetic Engineering".
The CD/DVD will be out in 3 weeks from now. Manufactured in a limited edition of 2,000 copies only, it is exclusively available through PledgeMusic. A picture disc capturing the live recordings of the "Dazzle Ships" tracks is also available on 750 copies.