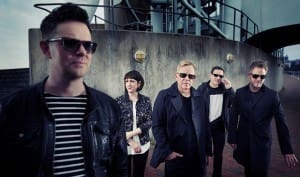 Out on September 25th on Mute is the brand new New Order album "Music Complete". The album will be New Order's first full studio release since 2005's "Waiting For The Siren's Call", and their debut for the cult label Mute. "Music Complete" also marks the return to the studio for Gillian Gilbert to record her first album with New Order since 2001's "Get Ready".
Music Complete was produced by New Order, except "Singularity" and "Unlearn This Hatred", which were both produced by Tom Rowlands. "Superheated" also features additional production by Stuart Price. Long-term collaborator Peter Saville provided art direction.
The album will be released on CD, download, black vinyl and limited edition clear vinyl. In addition, there will be an exclusive 8-piece deluxe vinyl collection that includes the album plus extended versions of all 11 tracks on coloured vinyl.
New Order anno 2015 is: Bernard Sumner, Gillian Gilbert, Stephen Morris, Tom Chapman and Phil Cunningham.
The tracklist for "Music Complete":
Restless
Singularity
Plastic
Tutti Frutti
People On The High Line
Stray Dog
Academic
Nothing But A Fool
Unlearn This Hatred
The Game
Superheated
Check out a first teaser below.