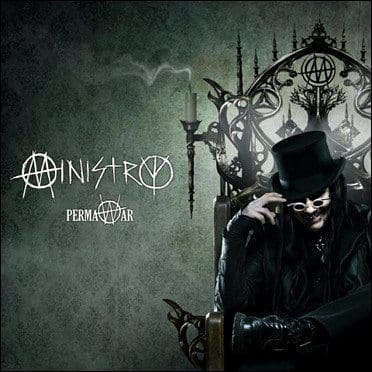 (By DJ Wildhoney) Industrial-Metal pioneers Ministry have released "PermaWar", the first digital single from their upcoming (last) album "From Beer To Eternity". The full album will be released on 6 September 2013 via 13th Planet Records/AFM-Records and will count 11 tracks.
Ministry's frontman Al Jourgensen explains: "'PermaWar' is a mid-paced, metallic tune that combines guitars crunchier than fresh tortilla chips, raw, raging vocals, live drums, a catchy doom guitar hook and a quasi-melodic chorus with samples of President Obama talking about terrorism and nuclear weapons.
That song was inspired by reading Rachael Maddow book 'Drift'. It's about the permanent war machine that keeps making money, the military/industrial complex that Eisenhower warned against as he departed the White House. The US government just keeps sending young kids with families out there to be bullet stoppers so we can keep selling arms and keep this perpetual war machine going. The last time we did a song that chunky and slow was when we did 'Crumbs' and 'Lava' on Filth Pig. But then I also used a bunch of catchy background vocals, which I haven't done since Twitch."
You can order the single right now on iTunes or listen to it below using Spotify.