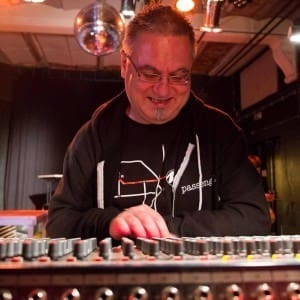 (Photo by Mélanie Detry) After the news that Psyche's Stephen Huss sadly passed away, we are extremely shocked to learn that our dear friend Louis Zachert, also known as Metroland's Passenger L, passed away in his sleep last night. We have known Louis Zachert for many years, especially since he was so close with our buddies Sven and Andy from Metroland and Ionic Vision fame.
For both Andy and Sven, Louis' sudden death comes as a huge devastating shock and both will issue a statement later on tomorrow to pay respect to Louis Zachert, who for them was not only a fellow musical traveler but most of all a very close personal friend who has guided them throughout their entire career, in good and bad times. It was also Louis Zachert who personally pitched Metroland to Alfa Matrix, both Andy and Sven not being sure the label would like it. From Alfa Matrix we got the following statement: "If there was one person who really was genuine in the dark scene in Europe (and especially Belgium), then he was the one and only you should have cherished. Our condolences go to Louis' wonderful wife Petra and to Sven and Andy who have lost their musical father."
The Side-Line team wants to pay their utmost respect to this wonderful positive guy who has always been there for many people behind the scenes. Farewell Louis, it was an honour having known you, you'll never be forgotten!