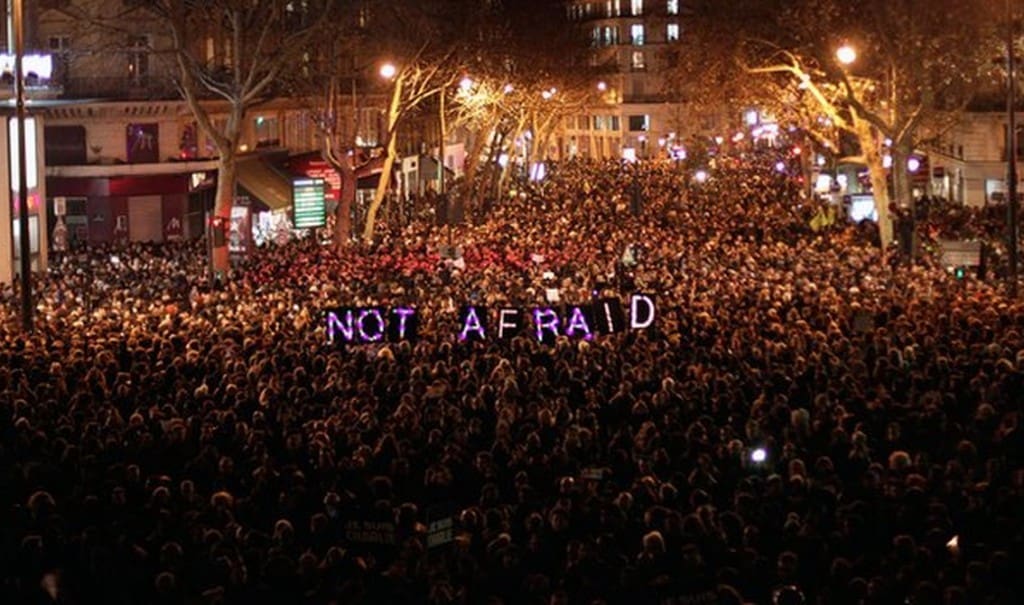 The terrorist attacks in Paris already have an immediate impact on the cultural life over there. A lot of bands have canceled their tours, especially their dates in France following the brutal attacks, despite the local people pleading "to not surrender to the fear these terrorists want to install in our hearts" says Mathieu F., Side-Line reader living in Paris (see also the picture above).
Motorhead, Prince, Foo Fighters, Deftones, U2 and many more bands all have canceled gigs in the wake of the Paris attacks. Foo Fighters, due to perform in Paris this evening, called off the remaining dates of their European tour while Motorhead, scheduled to perform in the French capital yesterday (Sunday), rescheduled their gig to January. U2, due to perform in Paris on Saturday, did cancel their concert, but were one of the few bands to visit the Bataclan venue where most of the people died. They layed flowers near the Bataclan theatre.
The Deftones, scheduled to play two shows at the Bataclan yesterday and this evening were in Paris at the time of the attacks, have also called off their shows. They might have narrowly escaped the tragedy as members of the Deftones' band and crew were at the Eagles of Death Metal concert at Paris' Le Bataclan Friday just 15 minutes before the gunmen opened fire.
Clear is that the attacks have left big scars in the French music community, at least 89 – mostly young people – died when gunmen stormed the Bataclan concert venue where US rock band Eagles of Death Metal were performing. Several people working in the music business died in the line of fire. Nick Alexander, a merchandise seller for a lot of bands – and also selling merchandise at the Eagles of Death Metal gig – was among those killed. Universal Records lost 3 of its employees including Thomas Ayad, and Marie Mosser. French Les Inrocks music journalist Guillaume B. Decherf was also killed.
Our condolences to the French people, nous vous soutiendrons!