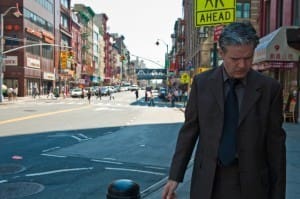 Out on September 4th is the new electronic album from Lloyd Cole. Again based on his work with modular synths it continues to where he left of with "Selective Studies Vol. 1" which was released in early 2013. The new album consists of the unused submissions (both Hans-Joachim Roedelius and Lloyd Cole had submitted maybe 400% more than was ultimately used) which weren't really finished. Some pieces were originally created with overdubs by another in mind. Some were simply experiments.
Says Lloyd Cole: "None of the pieces involves the use of a piano keyboard or a computer, except to record it. Some modulations were executed by hand. Most were generated by programmed sequencers and logic. Each piece is a self contained electronic circuit. When it came to selecting the pieces it became clear that certain pieces would need to be shortened if this was to become an LP or CD. I made rudimentary edits, the difficult stuff was done by Jonas Foerster in Berlin."
To give you an idea of what sound you can expect, here is a track from "Selected Studies Vol. 1".
English singer and songwriter Lloyd Cole is mostly known for his role as lead singer of Lloyd Cole and the Commotions from 1984 to 1989. After the band disbanded Cole relocated to New York and recorded with various artists, including Fred Maher, Robert Quine and Matthew Sweet. He also recorded several solo albums.