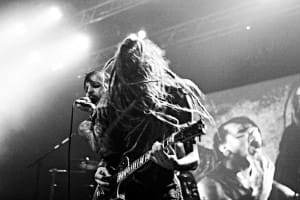 Freakangel have now launched the video footage of their full live download album "The Show Of Violence" (available via Bandcamp) on YouTube!
The concert was recorded at the Rockstar's Club in the band's very own city Tallinn – Estonia, and was filmed using 5 different cameras. You can watch the entire 11-track live set below.
The HQ audio from this concert can be downloaded from Bandcamp. Tip: use the discount code freakangel5237 and you'll get 25% off on your basket – valid until the day before the official release on October 9, so be quick!
Freakangel is also planning some extra concerts in Europe:
Oct 16, 2015 / Helsinki, FI – Bäkkäri
Oct 30, 2015 / Moscow, RU – Rock House
Oct 31, 2015 / St. Petersburg, RU – Zal Ozhidaniya
Nov 12, 2015 / Paris, FR – Le Klub
Nov 13, 2015 / Zofingen, CH – Oxil
Nov 14, 2015 / Padua, IT – Grind House
Nov 15, 2015 / Milan, IT – Club Rock'n'Roll