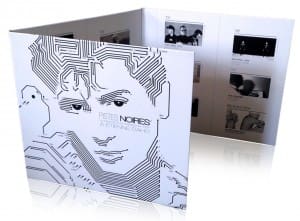 Released last February, BOREDOMproduct's latest compilation, a tribute to famous French pop singer Etienne Daho, sold out this summer. But the compilation sees a re-release this October and is available right now from the label's webshop.
This re-release comes in a new packaging and holds an extra surprise for the fans, as Etienne Daho himself wrote a little message to thank the artists in the booklet. An audio preview of the compilation is available below.
Here are 2 extracts of the album by Celluloide ("Le Grand Sommeil") and Foretaste ("Ouverture").
After two previous label compilations ("Synthétique" and "Auto-Reverse"), "Pistes Noires (de préférence)" is an electronic pop tribute to famous french pop singer Etienne Daho. The CD holds no less than 17 tracks: 17 different bands giving their personal view on Etienne Daho's song a backward trip from the 2014 hit single "En Surface" to his 1981′ debut "Mythomane". You can buy it here.